Subtitle: I've seen pavesi (Pavia inhabitants :P) smile!
For those of you who don't know: Pavia it's a really pretty city, it's historical, green, people-friendly, there's also a river (Ticinum, for those of you who are very bad in geography like I am :P) with its natural park and a lot, a lot, a lot of evocative fog in winter.
That's it.
That's all, nothing ever happens (well, almost ever) and when it does you usually find it out the day after, on the local newspaper, with this exact phrase "Yesterday this thing came to a conclusion". What does it means "Yesterday came to a conclusion"? You're a newspaper, shouldn't you be telling me "Tomorrow's opening…"?
Setting complaints aside. This summer someone (if I'm not wrong the clothing shop The Oxymoron, Giovanni "Aizen" Stelitano -as I've been informed in the comments, thankyou!- organized it and the comic shop Akiba gave prizes and organized some more helpful things for cosplayers) started planning, through facebook, a cosplay/flash mob in Pavia. Some friends wanted to go, there were countless "I'll be there" and "Like", and yadda yadda yadda.
I need to tell you something more about Pavia's citizens: they usually do not join in things. Why? Because they think like this (I guess):
1) Oh, nice, there's this thing to do! … but who am I going with?
2) what if it will be just the two of us? Loosers…
3) what if someone I know sees me there? Wonder what they'll say
4) well, whatever, I'll just go have a look.
Then it happens they do go to have a look, and they see that there are only four participants (because EVERYONE had their same thought-pattern) and then they go like:
5) sheesh, there's noboby participating, so lame, luckily I didn't go!
I don't think I have to say more.
Though yesterday, joy and surprise, there were plenty of people! Cosplaying I mean! And they all took great care with makeup, costumes and details. Sa and I went steampunk-like, I've spent the last few days making myself a boned waist-cincher (I'll be uploading a tutorial soon!) and had a walk.
The best thing was seeing people's stunned and smiling faces, faces that said "Ohnoes! If I knew about it I would have joined it!!!"
So I really hope it will be done again next year, maybe we'll go in a group, maybe we'll linger more than an hour, maybe we'll enroll in the contest too!
Now please excuse me, I'm off searching the official page to see if I find some of the pictures people took of us 😛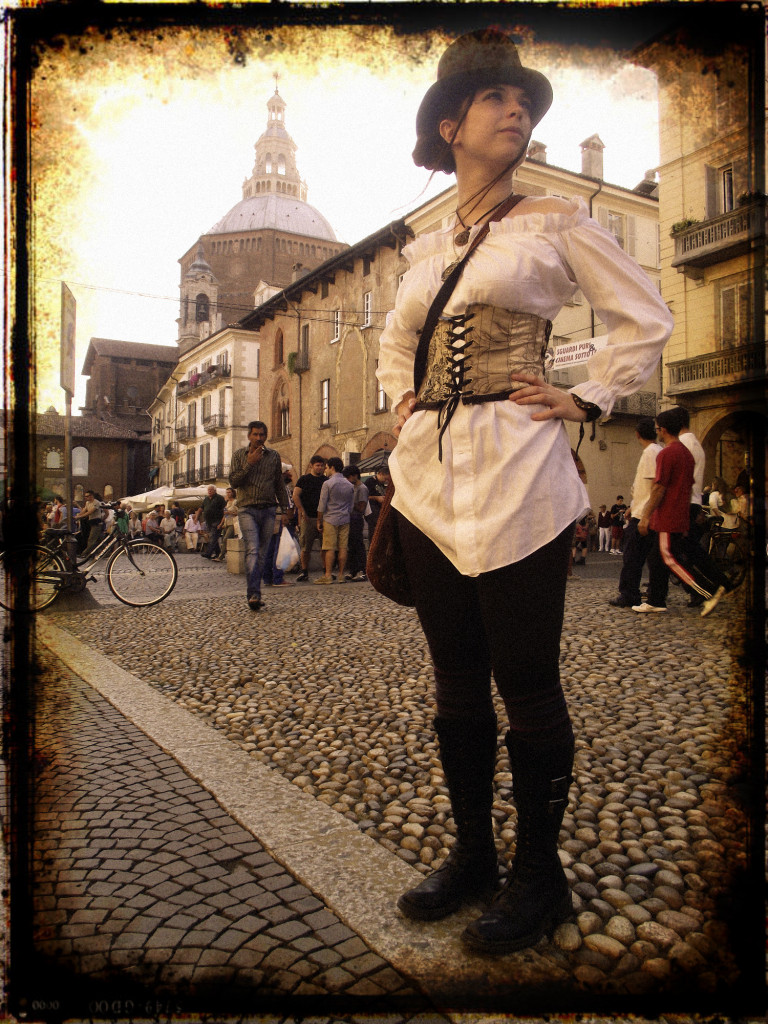 PS
Being asked "Can I take your picture?" just because of what we were wearing, was fun! And going out in full costume, noticing tons of people staring (not that nicely) to us, feeling a little tense and selfconscious but suddenly going "The heck! Are they staring? Whatever, I'm a fun interesting person and they are boring because they're not cosplaying U_U" was such a great injection of self confidence *_*
Related posts: