Here's the oldest incipit ever.
You never think it could happen to you.
You've seen it, in tv shows, in countless movies… empty streets, monothematic newscast, the Government restricting citizens, "keep calm and carry on", pillaged supermarkets, jail uprisings…
You know it, you've seen it… but you've never lived through it. You've never seen, really seen, a mother and a daughter stopping meters from the grocery store, pull out a bag, pick up face masks and help eachother wear them.
You've never heard the streets in your town so quiet. You've never really listened to the sirens wailing on the main road… it was normal, given.
Now every dog howling in anticipation at sirens is a "who knows…".
Meanwhile, you keep calm, you keep rational, you talk sense into your parents, who are not that young anymore nor that overall ealthy, you tell them to stay home, to clean out the closet, to prune the trees, but to stay home.
And still, it all feels far away, isn't it?
Then three cases are ascertained in your small village, two thousands people and a dog, the village where you and your parents, a little over there, live. A red dot in a map that looks like it has chickenpox, not a comforting thought.
And those you see strolling the streets feel like a plague spreader, if you must, if you really have to go out you speak words that have possibly be spoken before by those who lived through war.
Be careful, be quick.
Every cough, to clear your throat, doesn't feel like befor, it's a "who knows…" again.
Every evening, at 6 pm, you check the map that tells you how many are sick today, a lot, how many have died, too many, how many have healed, too few. And you wonder when it will all end. "Who knows…".
So you focus on what's positive
You realize you're lucky, you're privileged: you can work from home, the company you work for put everybody on smartworking since the very beginning, and you still get payed.
And your husband too. You live in a house that allows you both to work comfortably, without being in the way of one another, and you don't risk arguing in this forced quarantene. You don't even have a dog to walk, nor kids to entertain. Your pantry is stocked, you did your grocery shopping online (it will take time to get here, but in the meanwhile you're stocked).
And finally you get to enjoy your home, you can sleep more, you can have a slow breakfast, you can catch up with the episodes of that tv series you like so much, you can go in your garden as soon as you close your computer, to pull out weeds.
You are very, very lucky!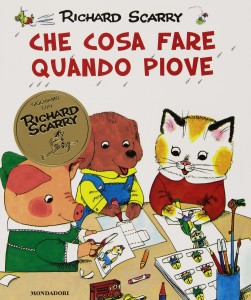 Moreover, another reason you're lucky is: you're an introvert.
Working from home, staying home, is no task for you, you've always LOVED being home, you've always known what to do when alone, with your time.
I don't think it's a case that one of my favourite childhood books was by Richard Scarry "Best rainy day book ever".
So, to uplift the morals and trying to do something useful, as much as I can from here, here's a list of things to do when you have to stay inside:
– clean up, like really well, like wash the windows, brush the mosquito nets, dust the ceiling fans, clean the AC, whiten the grouts of the bathroom and kitchen tiles with an old toothbrush, clean the hard-to-reach corners of your shower, wax your wooden furniture
– clean up and reorganize your pantry, this is THE moment to know what you are stocked up with, to clear out expired food, what can be saved
– think minimalism: clear out the closed, toss bad, broken, worn out stuff, only keep what looks good and makes you happy, including bags, shoes, belts, ties and necklaces!
– clean up your bathroom: are you sure you know how many samples, bath gels, creams and lotions you really have? Well, pull everything out, dust shelves, toss expired cosmetics ('cause you do NOT use expired cosmetics, RIGHT?), and enter project pan, line up stuff to use up!
– attack the paperwork: I have an entire shelf to organize, keep the stuff to file your taxes, collect your medical papers in one binder and your cat's expenses nearby, then tackle your receipts
– now, talking about that, you can review your incomes and your outcomes, home economics, am I right?
– so, now your house is sparkling clean and tidy, what to do? Think about yourself, take a bath, shave, try out new makeup or new beard shapes… I bet that by cleaning up the bathroom you've found a box of clay to make a face mask (add honey and green tea), or a box of hair dye, so go ahead, tackle that regrowth!
– I bet you're hungry now, after all of this… and your pantry is up to the task! So start experimenting with all those recipes you've never had time to try: roasts that need to cook for hours, slow slow stews, homemade polenta, muffins for breakfast, cookies, you can try your hand at home baking your bread, or something ethnic, or you can learn how to make pizza!!!
– allright, you've eaten and now you feel like having a nap. Do you remember that pile of magazines you're subscribed to but have had no time to open? Well, pick up one, sit in your armchair, add a cup of tea, a blanket (the cat will come on its own), or crosswords! How long has it been since you've picked at your brain like that? And then there's that book, the big one, the one you have to give your full attention to it, that you can't just read a little before bed time. There you go!
– ok, now you've relaxed enough, what about some exercises? Bodyweight, you don't need much, maybe a mat. Pushups, crunches… or yoga, or pilates, or bellydance (there's full of free classes on youtube), there is something for everybody. After all, you didn't have time for the gym before, right? Well, where's your excuse now?
– let me see: the house is clean, the belly is full, the bread is baking, the magazine has been read, you've also busted your ass off of the couch for a while, you've had your shower with your loofa scrub… now what?
– now is hobby time! How long has it been since you last did some beadwork, or wrote a short story, or coloured a mandala, or made a robot with a raspberry-pi? How long has it been since you've played like you're 8 years old? Make something out of lego, play the piano, play some videogames… you name it!
– what else, what else? Oh! Learning is always great. That language, go for it! You've always wanted to learn to play guitar, be my guest! Crochet? Not your thing? Maybe a new programming language? Or is it making videos? Or learning the secrets to the perfect tiramisu? What's stopping you? "Uni exams" you say? Allright, pull your best Hermione Granger and smash those books to the ground!
– then there's social media, but not the usual way. No! Call that long distance friend, switch the camera on, organize a "facetime dinner": call everybody, have the same meal, and video-chat away
– what's left to do? Stop for a while, and keep quiet. Listen to the humming of your home, how silence rings in your ears. Maybe meditate, or just be with yourself for a while, stop everything and count your blessing. Pet the dog. Sit on the couch and talk, for hours, with those who live with you.
– then start over, plan something to do when all this will be over, a trip, a dinner with friends, going to the hairdresser, to a museum, to the cinema, plan a loooong holiday away…
– finally, if you want to help, donate to fundraisings or, if you cannot donate, at least share it on social media, to help those who cannot stay home, to help those who are in the hospital, far from home, either working or because they're the sick ones.
And STAY HOME, for those who cannot, for those who have more to lose.
We can do it!
Related posts: