This pretty amphibian here, that cheers me every morning when I open up my laptop, is pretty gifted when it comes to gifts and meanings.
The other day, after making almost 200 pierogi with my friend Chiara, we went visit her future home. Her dream home. She already lives basically in the woods, but this home is even better. And we were greeted by frogs literally hopping into hiding underwater when we passed.
And one also hopped around while I picked flowers.
Yeah, I know, soooo sappy, sooo shabby chic.
Anyway, when I got home I googled for frogs and their meaning, turns out they are a lucky charm almost everywhere!
Here's what I've found.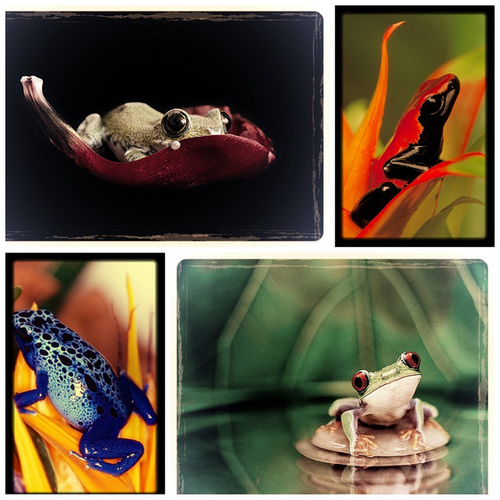 Since frogs undergo a tremendous amount of transformation from egg to frog, and since they live comfortably both in water and earth, the first symbol of frog is methamorphosys, adaptability, transistion and of course transformation.
It's a lucky charm in those moments in life when you are going through, or you need, big changes. Like teenagehood, going into adulthood, a moving, a change of country, of career, of anything!!!
Therefore if there's change, there's chance, opportunities to catch, and a frog can be a good intermediary.
Keeping up with the duality of this animal and its intermediary capabilities we get to shamans: the frog was a spirit guide to them, frogs were thought to be able to guide a shaman from our ordinary world into others, upper, lower, dream world.
Of course this parallels connections to the world of the dead, being able to communicate with them, to our most hidden dreams and most hidden power and beauty.
All these connective abilities, these communication skills make frogs wonderful lucky charms for languages, translations, connections, social opportunities (most of all if they're depicted with tongues sticking out), knowledge (wich loops back to shamans etc).
Their connection to water leads to another affinity: purification and healing, but also rites of passage: birth, death and rebirth. Birth and water also lead to creativity, prosperity and abundance.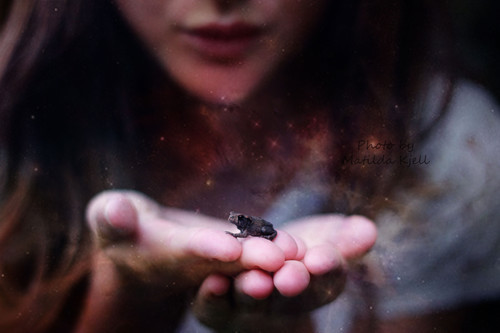 To ancient Egyptians the goddess Heket had a frog head, and she was patron of births, prosperity and abundance. A benign goddess.
In China the frog is a lucky charm and yet again a connection between the living and the dead.
In Japan "kaero" means also "return" which makes for a perfect traveller's amulet

And apparently a little jade frog in the wallet makes for abundance and protects against thefts.
The Cajun believed that werewolves (loup-garous) were terribly afraid of frogs, so they kept frogs to protect themselves from werewolves.
To the ancient Romans frogs were sacred to Aphrodites, once again a connection with beauty 😉
And to the ancient Christians it was at first a symbol of the Holy Trinity, because of the three stages the frog lives; but then frogs went bad, they were seen as witche's familiars, therefore purely evil.
And as a last thing: frogs are connected to copper.
Don't ask me why!
Anyway, I think they're funny to look at and I feel like I might need some of that powerful change-friendly mojo


What about you? Do you like frogs? Or don't you? Now that you know more, do you feel like you'd need some of their help?

Related posts: