Absolutely shallow post! You've been warned!
(And no, it's not sponsored, so chill 😉 Of course having a life suppliance of these things would be great, seen how much I use 'em!!!)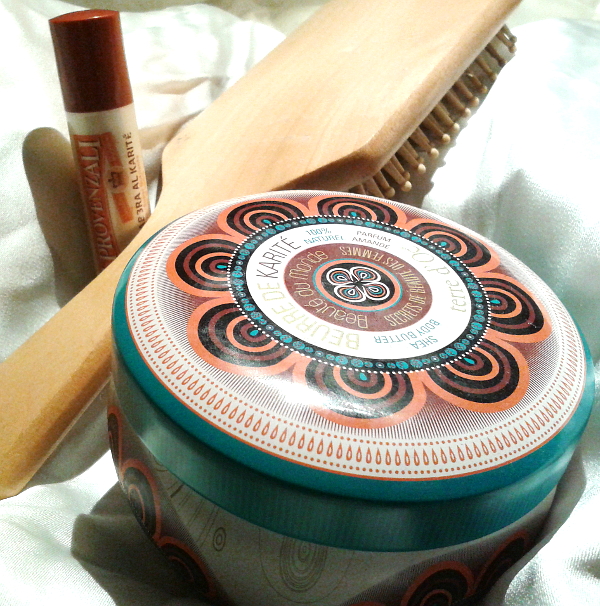 You know those games "What if you were stranded on a deserted island and you could bring with you only three objects…".
Well, if they were three "cosmetic" objects they would be:
a wooden brush
a lipbalm
a jar of shea butter
No, better, not "a" but "THE".
My wooden brush.
It happens it's branded Bottega Verde, it's big, pneumatic and it's a cuddle for my hair.
It's really cheap, most of all if compared to the alternatives you can find (6€ against 18) and it's really long lasting.
The following picture is quite gross, but please don't judge, I had the old brush since my HIGH SCHOOL DAYS and I just had to throw it away this autumn.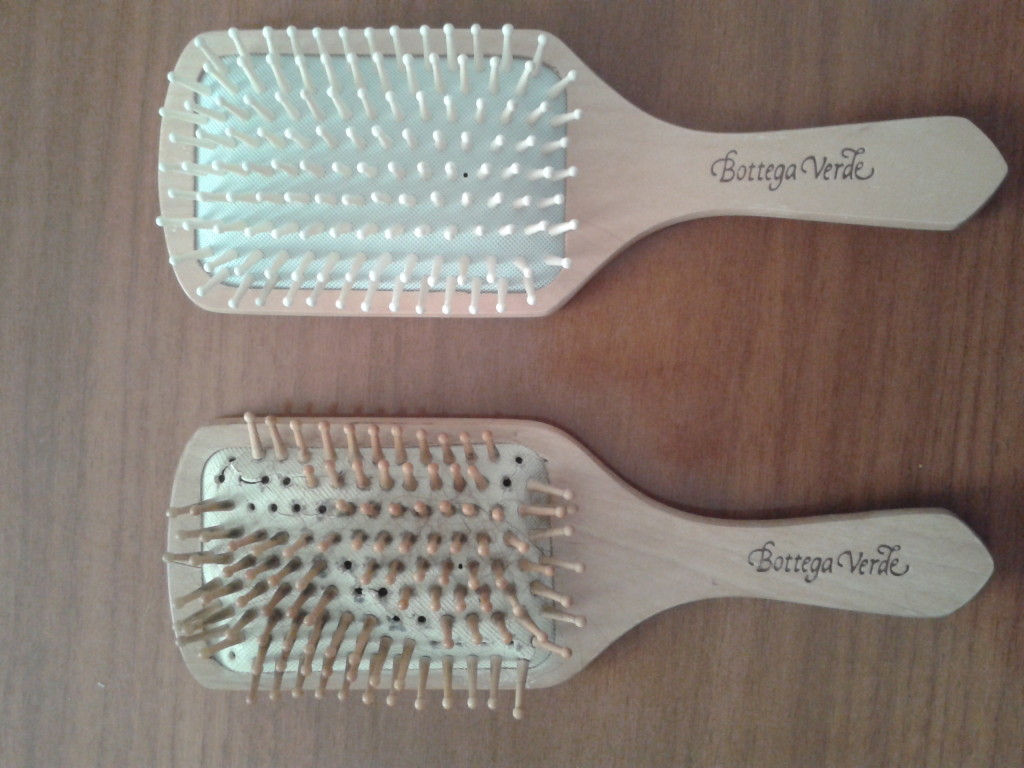 My lipbalm.
If I didn't have this magic tube during winter, I would have no more lips but two bleeding cuts. Yeah, poetic.
My lipbalm is made by I Provenzali, and it has shea butter in it. I might like to try the sweet almond oil one. And if I couldn't get either I think my third option would be the one by L'Erbolario (though it's not as good and it's way more expensive).
The rest, believe me, is nothing (I wanted to say something more rude, but after all we're talking stuff for the lips).
The rest is filled up with petrolatum and paraffinum liquidum, aka those substances that at first make you feel like you're well hydrated and soft, but what they're actually doing is just being greasy without hydrating anything. Worse, they are polluting and drying for your skin.
Have you aver had one of those lipbalms that you put on but in the end your chapped lips are even worse? (And you need to keep applying the product, so you run out of it fast and you rush to buy more? -.-).
Well, it's for those ingredients I've mentioned earlier.
Instead my lipbalm is a heavensent.
My jar of shea butter. Well, I do not have a specific brand for this one, I've always done great with the one by Equilibra, that has some jojoba oil in as well. And then I have another one, that smells like almonds, that I got in Paris *_*.
Anyway, generally speaking, any shea butter (provided it's 100% pure, organic, with no other chemical ingredients) it's a life saver.
I wear it on my legs, I use it for hair masks, I use it as a daytime moisturizer on my face when I have to go out in winter and it's really cold outside (otherwise in no time at all I'll have dried out red cheeks…), you can also wear it on your lips if all else fails, I use it on pimples as well, don't ask me why but it works wonders: they heal faster and I have no problems with marks or spots left, I've used it melted with green clay for a magnificent facial.
And I'll tell you more! I've also used it on Sa, one day, might have been the cold, he felt his forehead itching and burning, just a little massage with shea butter and in two minutes I hear from the other room "Ehy! This thing is unbelievable, my skin's ok now!".
I know, I know. You're welcome.
Well, that's it. Take anything from me, but not this trio!!!
Related posts: