If I told you how many times "make up for dummies" has been searched by people who ended up on Euforilla (yes, my stats tell me what you look for and how you end up here ;)) you wouldn't believe me, so I'm posting about it.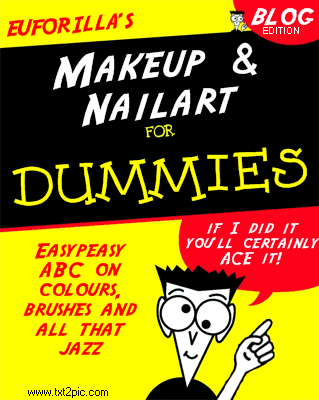 I'm no makeup artist, nor an estetician, nor a nail artist nor "guru", and I'll tell you more, I don't want to be!
I'm just a girl like any other, who enjoys wearing a good makeup and painting my nails properly.
Which means I've been through a lot of video tutorials &Co (I've also followed a makeup course with Goddessinspired

).
So why are you willing to fatten the rows of those who talk about makeup and such?
(these are you speaking… how fun!)
Because seeing those keywords on my stats I remembered an ex co-worker who one day, after asking me for links of makeup tutorials, comes to me, quite battered, saying "I've finally looked for those tutorials, not your links, but I've found a quick five minutes everyday makeup video… the video was 20 minutes long and the girl used so many products and tools I didn't even know they existed!"
I'd say it's enlightening: it's been years since my first video tutorial and such, I know what a bent liner brush is (and I also know how to use it, how cool am I, uh?!) I know what's a matte or shimmer bronzer and all this funky gergo, but I've also noticed that very often a lot of things are given for granted.
Like the fact that not all of us want/need/have time/will to wake up half an hour earlier to completely remake our faces.
I've bought my first foundation a few years ago, and anyway I don't use foundation that often, just on special occasions. I mean, my go to everyday makeu is eye pencil and mascara, some concealer if needed (damn those red spots!).
So I've decided to start a very short guide about makeup and polishes just right for dummies. Like I'm giving you the ABCs so that you'll be able to follow gurus with no problem at all!
So, how do you like it?
PS
Make your own book for dummies cover by clicking right here!
Related posts: