I almost can't believe it… we are back with our Postylish!
Here's how it works: Giada and me, we pick a "theme" and we dress up like everyday's halloween.
Why? Because it's fun, do you need any other reason?
Today it's up to a "Burton inspired" style, I think I haven't seen only Pee Wee, I've seen all the other Burton's films.
Repeatedly.
And like CollegeHumor stated really well "For costumes spirals, stripes and if I find something that is not black I paint it black" 😛
Therefore an honourable mention goes to Colleen Atwood, the costume maker (award winner) who works with Burton the most. Now don't tell me that she's repeating herself too, I've seen some costumes at Burton's expo in Paris… ah… dreamy!
Ok, enough blabbing, let's get my "costumes" rolling.
Yes, plural, because I couldn't decide on what to pick and because my wardrobe has more than one striped item to offer.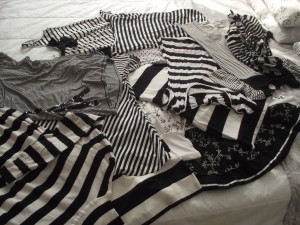 When thinking Burton I can't help but think black and white thick stripes, possibly horizontal stripes, names like Edward, Vincent or Victoria, winter landscapes, spiral trees, Helena Bonham Carter's crazy-beautiful hair, but most of all romantic (new meaning and classic meaning ) characters: good hearted creatures, quite unlucky, quite grotesque, but that in the end can find (or make) their own place in their (own) world. It may be cliché, but I can relate easily to these characters (and I know I'm not the only one :D).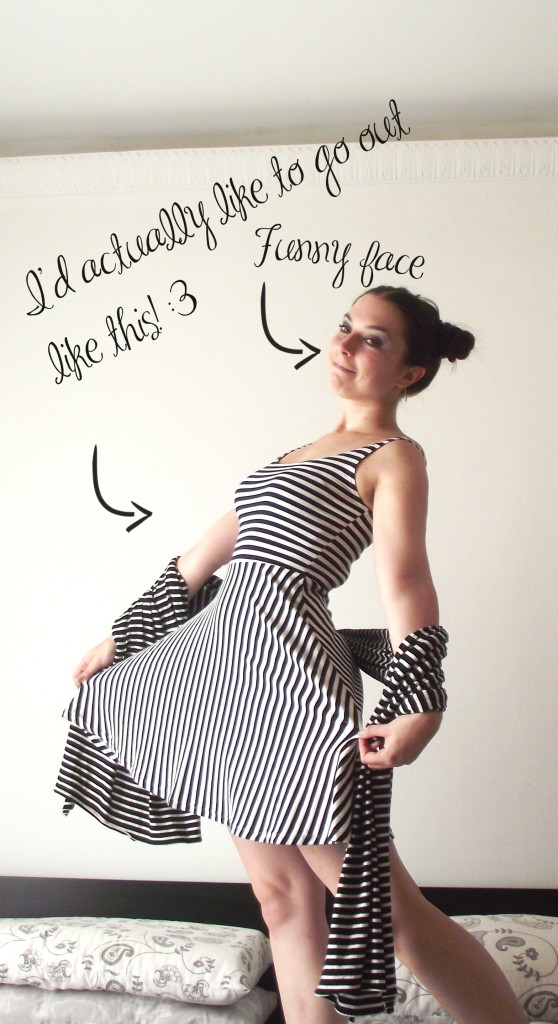 Makeup-wise I've noted two main features about his female characters: big, huge round melancholic eyes and tiny almost inexistent pouts… ok!
Ok, now that I had my fun in putting up faces to the camera I can stop embarassing myself, leaving you with technicalties.
Makeup
Eyes: ELF primer, ELF mineral eyeliner, Kiko Ultratech mascara, Zoeva brushes, Metallic Stones palette by Zoeva, Essence long lasting eye pencil n 10
Face: mineral powder foundation by The All Natural Face, Neve Cosmetics Dewey finish powder
Lips: Essence XXXL lipgloss
Hair: a lot of random hairpins!
Pictures taken with: Fujifilm finepix S and modified with Gimp (it's free!!!)
Last but not least, here's Giada's post *_* (note on that: none of us sees the other post before it get published, so while I'm writing this I'm deadly curious!)
Related posts: