Here I come rescuing my beloved Virginia McFriend and any of you who are in the same situation.
Regarding japanese restaurants.
Can't find one you really fancy?
Make your own.
Ten words that could sum up my entire philosophy. But we're talking food, so let's get back to it.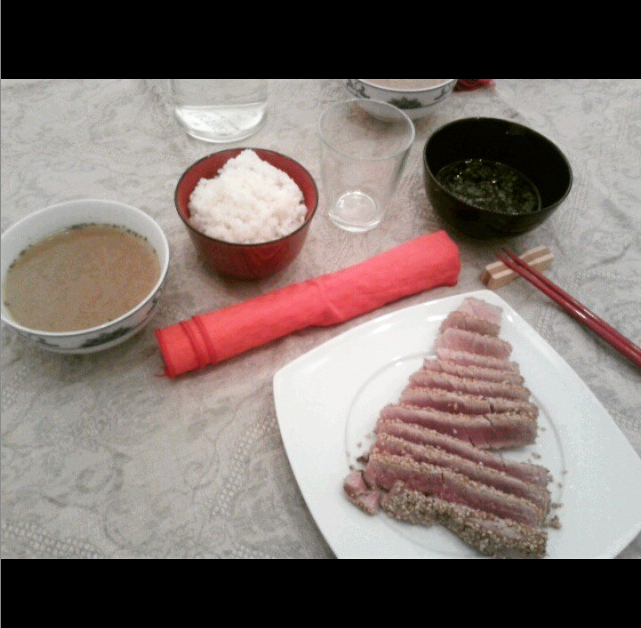 Before handing out the recipe for sushi (I'll have to give you time to befriend, and when I say befriend, I really mean *friend*, with your fishmonger – since no one wants to kick the bucket because of anisakis), I'll give you an idea of the recipes I'm going to post.
For two main reasons: these are the dishes we loved most during our honeymoon in Japan, and these are also the recipes I managed to replicate in my kitchen, so yeah, japanese recipes you can make in western countries as well!
Plus a couple of fusion recipes I made up by myself (wich sounds cool to say, but really it was like: I have this stuff in the fridge that will expire soon, let's pull a masterchef).
Here's the menu, a-hem, I meant… the list:
– ramen (with chashu)
– okonomiyaki
– miso soup
– butaman (or nikuman)
– ebi yakisoba
– chahan
– not so ramen
– toriyakidon
– gohan rice
– tonkatsu
– ebi gyoza
– kare raisu
The "not so ramen" and "toriyakidon" are dishes I got together with a bit of luck, but that turned out quite fine. Tonkatsu, Ebi Gyoza and Kare Raisu are the next one we're going to try. All the others have been tested and approved, after proper research.
To cook these delicious japanese dishes you'll need to visit an asian grocery store, to get a couple of key ingredients (don't worry, here's the list of what you really need and I also provided a series of cheap substitutes).
Generally speaking, when trying a new recipe I always like to follow the "original" recipe first and only on a second time try my hand at it, changing things up etc. (By "original" I mean the recipe I think is most close to what I had or to what "tradition" it has, and the recipe I think I can manage).
Things I've learned from japanese cooking:
– that the best cooking in the world is the one that uses poor and cheap ingredients, and have a way to use leftovers
– that garlic + ginger + sesame seeds + chives make anything immediately feel like Japan
– that there are five tastes (sweetness, saltiness, sourness, bitterness and "umami"), plus, maybe, also spicyness and bitter-sweetness.
– that consistencies and textures play a nice role in cooking
– that you have to care for presentation (colours, shinyness, composition, dishware)
– and that, in the end, being able to combine the different type of tastes, and consistencies and colours means making a kickass of a dish!
– that soy sauce is best if "with less salt" (the green cap one, usually)
– that a basic, cheap, rice machine can be very very very useful (albeit not essential)
– that you can use whatever you have around
Well… not so bad, uh?
Anyway, you have your grocery shopping list, the list of the recipes I'll post, the list of things I've learned, all you need now is a list of tools you might need:
– pots and pans: a wok or any kind of "deep" pan is helpful (I do not have a wok, and the pans I have worked just fine so far, truth be told, though, I still haven't had to deepfry anything)
– ricecooker, as I said previously: it's not essential, you can make steamed white rice with regular pots, but you might consider getting one (even a cheap, simple one like the one I have) can be useful if you'll start preparing a lot of dishes with white rice
– bamboo stuff to steam cook: not essential as well, you can manage with regular pots, colanders and lids
– electric grill: a good nonstick pan/skillet with a very flat bottom will do
– instead very good knives are essential: you can find them anywhere nowadays, and some are also cheap. Or, another option, could be to get your old knives filed and sharpened. Japanese cooking calls for a lot of cutting and chopping and mincing (since everything must be already bite sized), therefore sharp knives make your life a lot easier
– a rolling pin and a good cutting board and/or a nice large and sturdy surface: where to chop, knead, thin, spread, cut etc
– a scale, that also weights grams etc, plus measuring cups and spoons
– ladles, spatulas &co, be it plastic or wood, and possibly a teracotta pot: japanese cooking is quite sensible about metal tools that might alter the flavours (mostly of stocks and broths and soups)
– a cooking brush
That's it, stay tuned for the recipes!!!
—
More about Japanese Cooking:
Grocery shopping list
Cooking school (the source of my recipes)
Related posts: