It's done, we did it, they got married!
We went, we celebrated, we got back and the newly weds are already in Cambodia.
Is that all?
Of course not!!!
We woke up at 4am to be at the airport on time. So much so that we had breakfast there… muuuuffin… yum.
Time to have breakfast and go through the endless line at the metal detector, and our plane was already boarding. Some friends of my brother greeted me like they knew me forever. Whatever, hello, that's good you're already here. (Yes, I'm always showing off my good manners, what can I say, they drew me like that).
One hour and fifty minutes of flight, my little cousin sleeps, my grandma is quiet, my aunt C dives into reading a lousy book to spend some time, all the others are trying to catch some sleep, but alas with little luck.
We land, the weather's good, we collect our suitcases, I collect from the groom some of his friends' phone number (we were all scattered around Madrid Barajas). "We're at the cafe, for breakfast". Ok, let's have a second breakfast like the hobbits, we have to wait anyway for another guest coming in with another flight. Doughnuuuuut… yum.
It's time to go, last loo-stop for everyone, gathering all the gatherers… and then the search starts for Javier, our bus driver… He finally shows up with his sign -the one he forgot on the bus and whent back to pick up- with two rings pictured on it and "Boda Filippo y Maria", in fact looking like our Tungsten Rings. Ok, that's him.
Get on the bus, I give my brother's friends the list of all the names. They actually call each and everyone, like in school trips. Cute.
Two hours and a half on the bus, my little cousin E sleeps, my grandma is quiet, my aunt C dives again into reading a lousy book to spend some time, all the others try to catch some sleep, with some luck.
The weather is gorgeous, the openfields so wide and yellow, Salamanca presents itself from afar with the huge New Cathedral.
We drop the friends at their hotel, where the groom is waiting for them… and we force him to get into the bus to say hello ("The heck, can't I say hello to my nephew? Do I have to wait after the wedding?" "How comes he's not coming in to kiss us hello? He's my grandson after all!" and so on and so forth).
We get to our hotel, really nice, my parents are waiting for us, some confusion during our check in but it all goes well and "In half an hour we gather here again so we can go and have a bite" ok.
Time to go upstairs, pull our dresses out of the suitcase to hang them -to avoid wrinkles-, get my pijama ready on the pillow, put my beautycase in the bathroom…
And realizing I've left my contacts in Italy.
I swear and curse in all the languages I know.
I swear some more.
And a little more.
We go out for lunch (at 4pm), on a mission to get some disposable contact lenses, hoping I can find some that are suitable to my sightlessness… 'cause there's no way I'm going makeupless and glasses-less to my brother's wedding… most of all because I have a green dress and red and white checkered frames… can you picture it? The thing is, when I went to buy new frames black one weren't fashionable… so I had absolutely no way to have a pair of black frames… anyway, let's get back to Salamanca and the wedding.
We woke up at 4am, took a bunch of different transports, with a 10yo girl, a79yo grandma and an 84yo great-uncle with us… dad goes back to tour-operator mode and wants us to visit half Salamanca, eat tapas standing at those stands for the national holiday and keep going around… my mom bitterly reprimands him, some of us stop at the second cafe/restaurant they find (they had been yelled at when they tried to stop at the first one… poor things), while us (mom, dad, uncle A, my cousin, Sa and me) go to the main square and have lunch… with tapas!!! Soooo so so so good. Croquettes… yum!
And what about the square… it's gorgeous!!!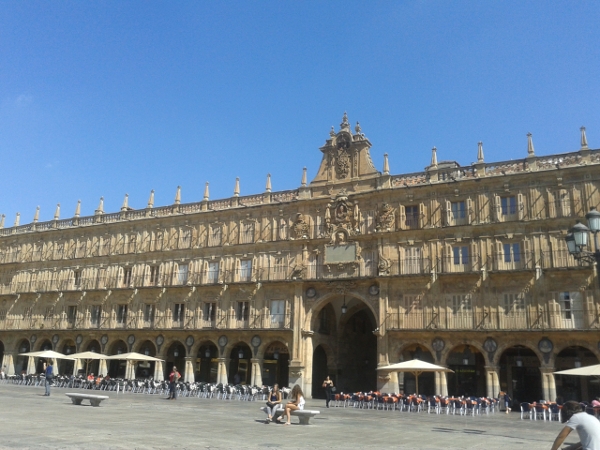 With our bellies full we crawl back to the hotel, for at least two hours nap. My mom, that had already got hold of ironing board and iron, offers to straighten any wrinkle from shirts and jackets. We agree. Then we run off looking for my contact lenses.
Oh, look, what a luck, a huge optical centre, with a sign saying "Specialized in disposable contact lenses" just behind our hotel! Let's have a go!
They have absolutely no contacts in the shop.
Oh.
Well.
Brilliant.
We try two other chemist's and finally, in the optical store they point me to, I find a pack of -8 contact lenses (-8,50 would have been better, but this is not the time to be picky).
We can now leave Warp speed and go back to our home base walking like humans.
"Have you found your contacts?" asks my brother "'cause you worried the family" he says,like we were some sort of Corleone's.
So I go in waving my box of contacts in the air.
"Have you found them?"
No… I'm waving a box of chocolates 'cause I have a sweet tooth… "Yes, yes I have".
We go out for dinner, is 9pm, we meet up with uncles and cousins on my father's side, we dine with pinchos (that's how tapas are called here), I drink Tinto de Verano (just two glasses, allright?).
We go back, I dive into the huge bath tub, my legs are grateful for the hot water. I sleep like a child.
We wake up a lot before our alarm, set for 8:30 (please take notice: the ceremony was at 11:30) but we decide to lay around a bit more. Then we go downstairs to have breakfast. There I learn that my brother is fully ready and he's in his room waiting for the photographer.
"Do we have to get all ready too, to take pictures with the groom?"
"No, no, it's just him"
Ok, good, I can have breakfast quietly.
We go back to our room, I lazily start getting ready, the phone in the room rings, Sa answers "Hello? … Yes… Oh… I see, ok… It will take some more time though… ok, allright".
Knock knock on the bathroom door
"Ohi, what's up?"
"It was your dad… he said that the photographer is downstairs and you have to go take photos"
"What the ph… they said I didn't have to, I'm so behind with this, I'm still in my underwear!!!"
"Yeah, don't worry, he said to take your time".
Yeah… right… take my time… after such a phonecall?
Anyway I try my best at doing things properly and quickly (aka: mission impossible).
I wear my new contacts, it's not that bad… "How do you see?" "Well… I can see… by this evening I'll feel like being on an acid trip, but I should pull this off".
I just need to wear shoes and perfume and someone knocks.
"Coooomiiiiiiiiing!!!"
It's my cousin E, she needs my bolero, ok, take it, by, no wait, are my eyebrows similar, I'm not seeing properly! "Yes, they're good, you look good!"
Knocking again
"Comiiiiiiiiiiiiiiiiing!"
It's the groom, a dark circle issue. I'm saying nothing more due to an unwritten contract of brotherly support.
I go downstairs, at my parent's room "What about the pictures?"
"We're not having them anymore, the photog's gone"
Da fu… "Oh, ok, well, I'll go back upstairs to fix a couple of things and then I'll wait for you in the hall, ok?"
Please remember this: my mom was unbelievably gorgeous and I kept telling her *_*
And my dad was handsome as well in his tight.
And I also cashed in some compliments, which is always good.
And please know that Sa, during all these hecktic moments, showed an incredible zen attitude.
So we go to the hall, looking good (can I say so myself? Come on, yes, I can).
The groom's best men are there, with their tight and top hats, there's the groom as well, wearing a pair of ugly red sunglasses. But that's good, let him laugh, let him be calm.
We're all gorgeous.
Oh, and my grandma didn't recognize me in the elevator "Howdy!" "Goodmor… oh, it's you!"
"Cristina! What a change! You're unrecognizable" thank you uncle, for this compliment that implies that I'm usually like a cocoon, thanx.
"I think this might be the very first time I see you wearing heels, you know?"
"Very likely"
Laughters, yes, I'm always showing off my humour, what can I say, they drew me like this.
We get to the church (in taxi, deo gratias, since my feet were already hurting me… while I was seated), hello hello everyone, kisses, hugs, silly words, laughs, the priest on a rush ("Cri, there's a druid staring at us" "Sa, that's the priest" "Oh") makes everyone go inside.
Once all the guests were iside the church we have to go in in pairs: the groom with mom, the father of the groom with the mother of the bride (who started crying as we were pairing up), the sister of the groom (that be me) and the brother of the bride, two other pairs of bestmen/maids of honour, two little kids with the ring, the bride with her dad.
In Spain, at weddings, bestmen and maids of honour sit behind the altar, behind the priest… and they can look in the face of the bride&groom all the time. I had a very good seat, thanx for the premium ticket, brother!
The brother of the bride has a humid eye but he holds it up, the two bridesmaids are crying like fountains all the time.
The sister of the groom (that be always me) gulps back two or three times all-da-feelz, she certainly couldn't smudge her makeup in front of all those people! The groom's bestmen spend all the time making fun of him behind the priest's shoulders… and he (the groom, not the priest) of course is snikering all the time… almost.
"Look how happy your brother is, look at his happy face!"
I look at him, I see the invisible elastic bands that are holding him up and pulling him tight.
"Yes, he's happy, as tense as a violin string, but happy"
"Your mom though… she's so quiet!"
"My mom's zen, yes"
"Your father, on the other hand, is crying since he sat down"
Yes, I could see a red face, but that was all… damn you -8 contacts!
The bride finally gets to the altar, and everyone knows she's there from her contagious laugh.
Quick ceremony (there were 4 other weddings after this one) the priest-druid-showman takes the microphone and starts walking the isle, asking the guests what it takes for a wedding to work. It quickly turns into everyone wishing happiness to the weds-to-be.
All I can manage to say is "You have to enjoy yourselves" which came from an inner speech I was having with myself, and it was deeper than "Go out for dates", I meant "You have to laugh in your life, be with someone who makes you laugh and who makes you happy"… I hope they got this.
The end, I sign the document with a 5th grader calligraphy, we go out, they come out, rice, confetti, kisses, pictures, hugs, tears.
And an horrible slope (I think it was a 45% incline) on the pebbles, to get to the buses that had to take us to the Finca, were the reception would be. With heels. I rest my case.
Half an hour in the middle of yellow fields, and we get to a place where you could easily film some westerns, wonderful.
Electric piano, sax and double bass, playing jazz and loung at a fantastic volume. Jamon, mojitos, chees, tapas aplenty.
I see three hawks soaring in the sky, there's lavender smell from all the plants around, my feet are killing me, the weather holds despite the forecast and the dark clouds approaching, my brother's friends bring the attraction for the day: Enzo, a huge teddy bear.
They seat him at the newly-weds table and we go on eating tapas, drinking, talking and taking pictures. A lot of pictures. Too many pictures. "Enought with the pictures!" snaps the groom the one and only time our mom tries to take one of him.
It's lunch time, the tables have the names of the streets where they lived during their Erasmus, when they met and fell in love.
I'm gulping down anoter feels.
We're all seated, the newlyweds step in, their friends start a wave, they get to their table and see Enzo, laughers and then my brother tries to make it go away… but Enzo comes back with its own chair and earns a seat at the friend's table. And he's also wearing a top hat.
We eat, we drink, we talk, we laugh, we joke, my brother's friends start chanting "Neck Neck Neck Neck" and my grandma asks "What are they saying?" "uuhhmmm… dunno… I don't understand" we hesitate, my dad translates "Beso" for the spanish people. Diplomacy: we're doing it right.
Apparently a friend of the bride brought soft-heel-bands for everyone… but when I find the basket it's empty (I'll later find that my little cousin E was wearing a pair… with her uber-flat flats… be zen Cristina, be zen).
Outside it's raining cats and dogs, but we're fine inside now.
My great-uncle G, 84 yo remember, is extremely worried since he still hasn't found anyone to dance with… he loves dancing, he's hoping to dance and he's hoping they'll play a waltz, but if he finds no companion to dance with that's a problem… the groom's friends support him and promise to "find him a gal". They don't get it… therefore they will stand and watch while my 84 great-uncle dances with four differend ladies. And they danced pretty well too.
But let's step a little back, since it's the newly weds who dance first.
My brother's worry was to find someone to make a diversion, like faking to faint, so that the 80 seconds of first dance would have been even shorter.
But I'm not missing my brother dancing for anything in the world. We all line up, like a death squadron, with cameras ready.
First goes the song the bride chose "Meravigliosa creatura" by Gianna Nannini (an italian song, the title translates into "Wonderful creature"). And while I'm having the-feelz all over again, while my eyes are watering because I'm realizing what the words in the song mean if matched with their lovestory, while I see the bride singing softly in my brother's ear "wonderful creature" and I'm on the verge of crying, my brother turns around, looks at her, see her teary eyes, starts laughing and says "Que tonta!" aka "How silly!".
Ah, romance…
Then everyone joins the dancefloor, I dance with Sa, I also manage to dance two seconds of "Fly me to the moon" with my brother. Mission accomplished: after 27almost28 years on this earth I danced with my brother. Oh yeah.
Then I sneak into another room, stealing a pair of espadrillas, those the newly-weds were to give to all the sore feet. "You're a bit in advance" the groom scolds me… but he takes out the baskets with the shoes anyway… and all the girls and women are quite pleased of the gift!
We take some silly pictures with feather boas, huge glasses, and hats, crowns and mustaches shapes.
Candies, open bar (where I stand in line forever for a bottle of water, where a friend of my brother sees me and says "Cristina, we're so hammered!!!" "You don't say!?"), then Sa and me go talking on some chairs. Playing with my cousin E who finally found out what weddings really are: it's not like those tv shows, it's not just dances and fun, it's also endless days and dead times.
"At least you danced!" "Do you want to go dancing now?" (I ask, even though I know that my cousin has absolutely no idea how much it costs me to ask that question, since from Michael Bublé and Gipsy King the DJ was now playing disco music and dubstep…) "No, not now" (wheeeew).
The bride retires in a corner with a friend, they start dancing some flamenco, I'm mesmerized!!!
After a while a song goes on, my cousin knows it "Can we please go dance this one, pleeeeeaaase?" "oh… allright!".
I'm jumping like a trained seal, she's dancing the coreography. Oh well, it's fun to watch. And there's also Enzo on the dancefloor (without top hat now).
We jump on the first bus back to town, time 8:30pm, I know I'm old inside, and proud to be, ok??? My resilience to contextes with uber loud dance music, crowds, people smoking cigars (the brother of the bried kindly offered everyone) is very thin. I have people complaining "Oh nooooo! The sister of the groom has to stay here untill 11pm… and then we're all going to clubs!!!".
Please know that they were not kidding. They stayed untill 11pm and then they went clubbing in Salamanca.
Anyway I insist on being unpopular, kiss the bride aka my new sister goodbye, kiss the groom goodbye, kiss the parents of the bride goodbye, kiss some other random relative, bye bye bye.
I try my best to nap on the bus but I fail, and as soon as I get into my hotel room (blessed be the espadrillas who saved my feet) I take my beautiful green dress off and I finally breathe again… aaahhh!
After half an hour resting, doing nothing, wearing jeans and tee, with a makeup free face, "Sa… you know what?" "What?" "I'm hungry…"
So we're off again, for a couple of pinchos… though no Tintito this time…
And then I dive again in the hot tub, my legs are grateful again. I sleep again like a child
The morning after huge continental breakfast… yum! (It had to last untill 4pm, when we would have been to the airport again!!!)
The groom comes down with a disheveled face. Good, he had fun.
The bride comes down with the same face she had when she came to visit us in Italy: beautiful and smiling.
(Do you realize what it means such a beauty in a Hello Kitty pijama? While you're standing there with pillow marks all over your face, your fleece pijama giving off sparks and nested hair? Well, nothing, it simply means that my brother is a very lucky guy!!!)
Again kisses, hugs, relatives, chats, sillyness, no tears luckily.
And we're going back home… bus, flight is an hour late, we avoid a thunderstorm for sheer luck, silent house, quiet, just the two of us, Clothilde is purring and happy to see us.
The newly weds are in Cambodia, then Birmania and then Thailand. Congratulations, a lot of recommendations, mine included: "Take milk enzymes with you, you never know".
I'm soooooo elegant, aren't I?
PS
No pictures of the newlyweds since I didn't ask for their permission… after all I don't think they even know that I wrote all their business in here XD
Related posts: