I can't write this post. I can't!
But since 90% of the curiosity about a wedding is "What was the bride like?". White, usually. Just to say.
Weeeell, well, well, let's see.
White, I was in white. It was not about tradition or else, but because this way I could be easier to spot in the crowd… and also because I look good in white (I look less pale, more rosy).
I wanted to sew my own dress.
I would have liked to.
Last year's january I already had the pattern. By Michael Kors.
Gorgeous, asymmetric, sleek, simple and chic, a nightgown, flowy with no restrictions.
But you've already spotted the past tense in my verbs (and the pictures, but let's play "make pretend").
I'll need a flashback to explain better, ready?
Sci-fi movie graphic, flash of light, let's get back around Christmas when, once we were done with hugs and kisses and questions, aunt Clara tells me "Look, I don' care, do and pick whatever you want, but you have to take me at least once to see wedding gowns, I love them!".
Allright, what's it to me after all?
So one saturday morning my mom, my aunt and me, we leave incredibly early to go to the only store we knew of, up to the hills.
"Do you have an appointment?"
Oops.
"Well, it doesn't matter" you don't say.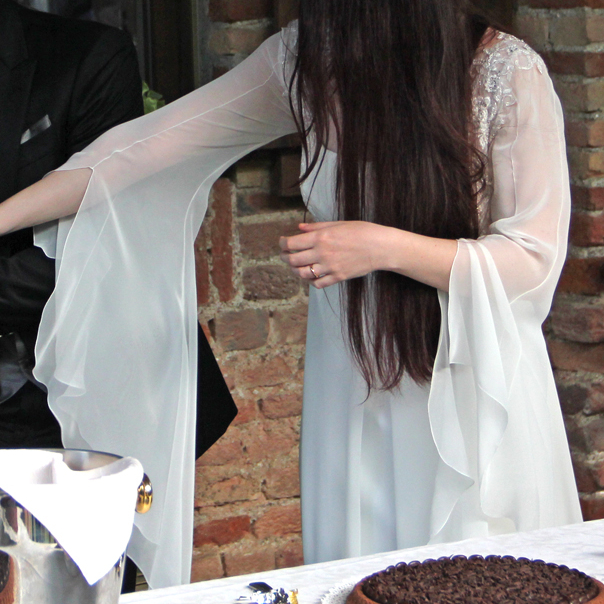 I, please take notice, was feeling like an horrible person: I was occupying a saleswoman for nothing, and I was well aware of that… I really hoped she wasn't payed on commision.
I don't know if you've ever been in one of these "wedding shops". The white is everywhere, it's blinding, Narnia looks poor in comparison.
We go to the second floor where they keep the gowns… it takes 15 good minutes to open up all the closets… I can't even glance at meringue-like dresses (there was one with a full tulle skirt, pastel green rayon ribbons and 3D applied pastel pink roses that… eeeewwww!).
So I play my part, I explain to the woman what I actually like, we pick a couple of dresses here and there, walk to the dressing room and ooh look, I didn't see this one before, nice sleeves, well "I'd like to try this one too, please!".
I tried on four, in total.
Pretty. Don't get me wrong, I'm not saying that all wedding gowns are hideous. Wedding gowns, if you consider them as a "sartorial product", are all beautiful, top quality, incredible care for details… we're not used to this kind of high quality nowadays, where everything we buy is mass produced, in some kind of knit jersey and bought in stock.
And know this: wedding gowns are heavy. I tried one on without shoulder straps, with a beading of transparent beads forming branches (I know, it sounds horrible, but trust me, it was quite good, I looked like an ice queen or something) that weighted more than I do. I thought "If it's so heavy I'm going to be left with my boobs out" (yes, I'm incredibly graceful when thinking to myself).
Mom and aunt weren't helpful "You look good with everything".
Yeah, I know U_U
Ehm.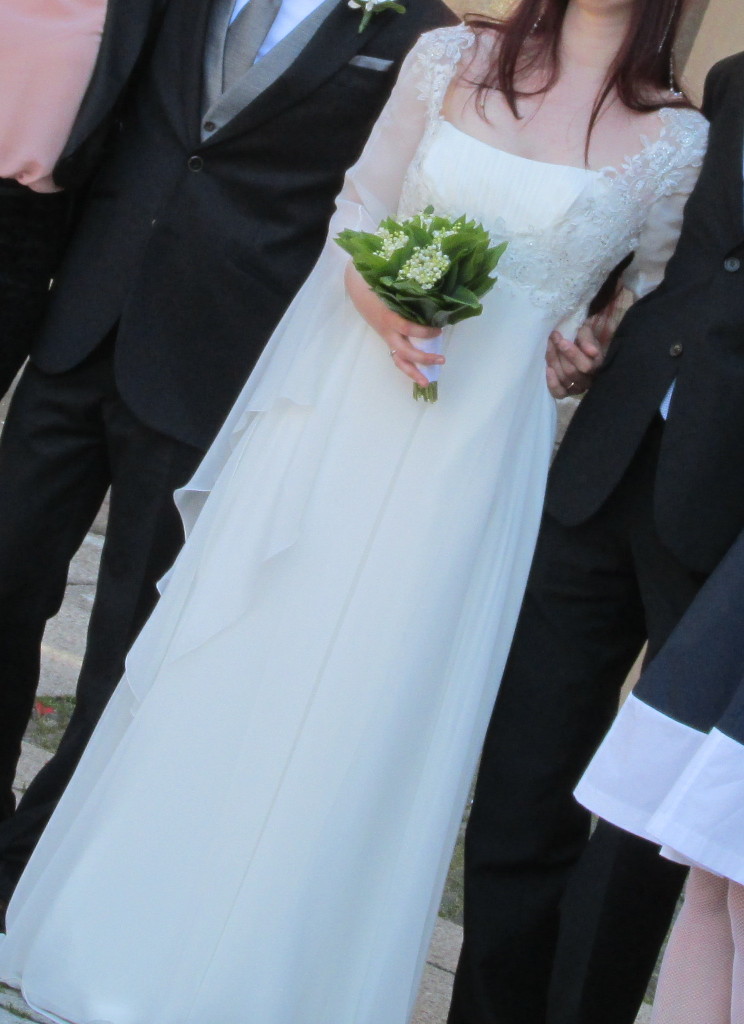 Then I try on the last one, the one with the quirky sleeves, I look at myself in the mirror and think "FUCK!" (yeah, still graceful), I looked like an elf.
I look again in the mirror, two pair of eyes are looking at me, moved and teary.
Oops.
I step quickly out of the dress, I don't want to know how much it is, I don't want to keep the saleswoman any longer, she probably has to attend an actually paying client.
I start thinking back to the shoulder of my pattern (that I had already cut, and I had already begun making a test version), I think how to better hem it and so on.
Ah, my bad.
A war started.
Ok, too bold, but it gave way to a wearing "do as we say" manoeuvre.
Made by constant snarky comments like "There's no way you can sew one of those dresses!".
Duuh! That's why I didn't pick one of those patterns, but one with three stitchings, tops… four if you count hemming!
But my answers weren't effective.
I was just sounding like Mary Quite Contrary.
And after all I wasn't that happy of battling constantly with my parents for something so silly as a gown you'll wear for a few hours.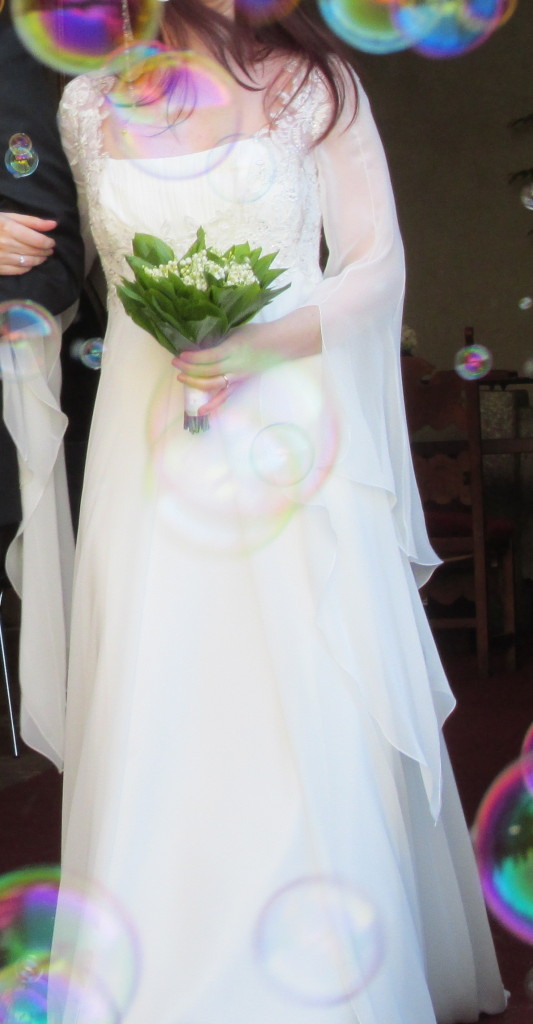 Come on, it is a silly thing. To me it's such a silly thing…
But they seemed to care a lot. Like, very much… so I decided to give everyone a way out that made everyone happy. Yes, everyone, my hurtful ego as well (no more "You can't sew properly", hey, I'm sensitive!).
"Well, if you're asking as a favour to you…".
The morning after my mom called the store and the next week we were back to purchase the silly sleeved gown… ready for an endless series of trials (3, ok, endless, right???).
On a second thought, I could have figured all this out sooner, aunt Clara had even told me:
"Consider: your mom's dress, the seamstress made it for her, as a surprise, my dress, my aunt sewed it with my mom's adjustments and censorship…"
"That's it! And I want to sew my own, like it's traditional"
"No! Traditional is not getting the dress you wanted!!!".
What a family XD
PS
Being stubborn as I am, I managed anyway to have something I handmade… and no one knew anything about it untill the weddin day… but you'll get the full tutorial 😉
PPS
I know the pictures are all cropped, but if I were to show the full sized pictures online, before showing them to my family, I would have a cropped head in real life

Related posts: