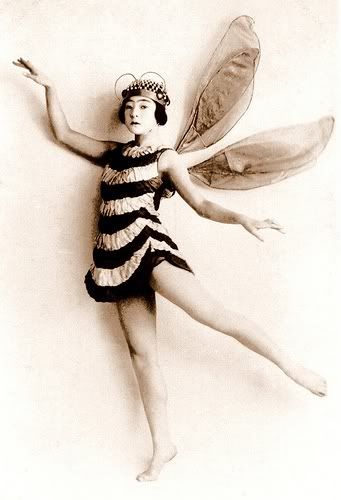 I saved the best for last: stripes.
Someone may say I'm too much a Tim Burton's fan… but let me tell you something: I found my TNBC book, I was nine, and before Burton there was another book that left a mark on my childhood: The Striped Elf (by Maria Puncel).
But also, before books, I think I had imprinting: while in hospital, as a new born, all the jumpsuit my mum knitted me were striped (and being a very round baby, with a yellow and black striped bathing suit, that gave me for years the nickname "Maya the Bee", didn't help either!).
So, me and stripes… we have a long love story.
But apparently stripes have a long story on their own: I want this book.
Mr Author collected a series of meanings linked to striped fabric, from its appearance to present day.
From "devil's cloth" to fashion issue.
Not being able to distinguish between background and foreground was too much to take for medieval people, it was strictly forbid to wear two coloured garments (chequered patterns weren't that good neither, but stripes were worse), there were fights among monks about suits and bicolour clothes.
For years stripes were a symbol of negativity, emargination: prisoners, prostitutes, mental asylum convicteds, sailors, court jollies had striped clothes…
But slowly stripes got mercy, maybe the phenomenon of mere exposition came in.
So striped fabric was used to mean hygene, lingerie, bathing suits (ok, still not "official" garments, still quite hidden, but then again…).
Untill present day, where it is widely spread and accepted.
But let's think about it, seriously. Think about "Friend's" opening theme. Can you picture the moment where they're all sitted on the couch, in front of the fountain? They're all wearing black and white, but what's one of the first things you notice? Phoebe's striped stockings, even before her long blond locks. And Phoebe is not only my favourite one, but also the weirdo one!
For years striped stockings were halloween stuff, for witches. Then they appeared in some daily outfit of some alternative and a little outsider subcultures, and if you think about it even now, in the best case possible, a striped outfit screams "Paris", or once again "sailor"…
Yes, stripes have been cleared of all charges, but this doesn't mean they can go unnoticed!
PS
Yes, yes, they're "in" now… I'm talking to you girl, who had dressed in stripes for ages and now you're almost sick of seeing them everywhere. Listen to a muse. Stock up now, now you have the chance, now that we're submerged by them, now that they come so cheap, soon some other fashion issue will be "in" more than stripes, and you'll be exclusive again… and you'll have a pretty massive stock, because when mustard coloured flowers will be in… I shiver to the thought of it!
Related posts: