Melisandre the red priestess, Red Riding Hood, Galadriel, Arwen, Assassin's Creed, a billion others.
Pick your fabric, pick your colour and these two alone help make a cloack the best part of an outfit or costume.

For this Carnival I wanted a costume that resembled the traditional Venice Masks. But since I cannot afford those masks and I don't feel like sewing myself one of those commemorative dresses. So I thought I could make up for it with an "inspired by" costume.
All it takes is a base blank mask you can paint on (you can find it anywhere, mine has some sort of fabric covering, which is perfect to paint on) and go wild with colours, decorations and glitters. Maybe take inspiration from online pictures, as reference, then jot down a drawing of what you want, on the mask as well, and only then start painting.
About the cloack, nothing's easier, trust me, it's just three cuts and two seams. No hems, no basting stitches, in a couple of hours, taking it easy, you'll be done.
What you'll need:
fabric 3mt x 1,50mt, I used a synthetic stretchy crushed velvet, but you just need your fabric to be soft and fluid (knits, lycra, light velvet, chiffon…)
needle and thread or sewing machine
newspaper
marker
tailor's chalk
measuring tape
pins
maybe someone to help you
I started with a huge piece of fabric: 1,50x5mt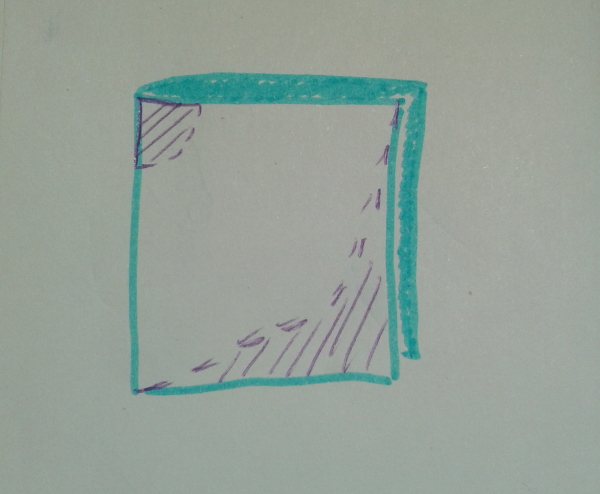 I folded it so that I had, just on one side, a square of 1,50mt.
On one corner, where the fabric is folded, I drew a semi-circle, the radius for it was 20cm, to have a comfortable neckline.
Then, starting always in the same corner, I used my measuring tape as compasses, and I drew a bigger semi-circle, the radius here was 1,50mt (Sa was keeping one end of the measuring tape still on the corner, while I dragged the measure around: the pins weren't keeping it still enough. You can do it on your own, it just takes a little bit more time and patience).
Pin the fabric, a lot, to keep it from moving. The pins go on the part of fabric you'll keep, not on the part you'll cut out, so that the fabric always stays in place.
Then I cut.
Turns out you have a demi-circle of fabric shaped like this: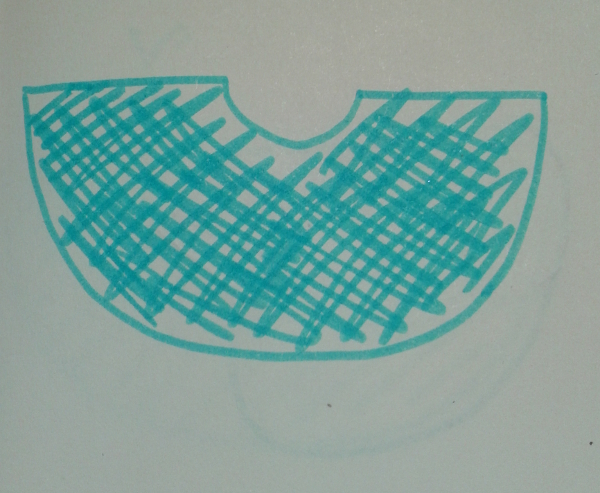 For the hood I draped the measuring tape around my head and shoulders and neckline, sitting it how I wanted the finished hoodie to sit. I divided this measurement in half and drew a straight line on a page of newspaper (represented here by the blue vertical line, my measurement was 45cm).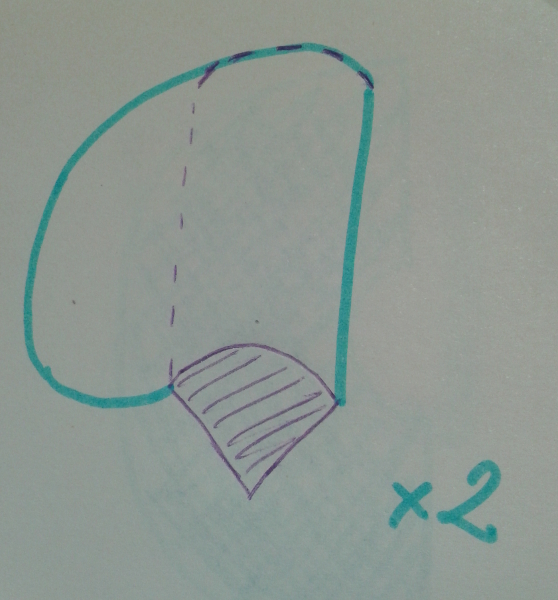 Using the semi-circle I used to cut the neck of the cloack (the purple pizza slice), I traced the neckline for the hood. I repeated the same thing on top of the line (it's the dotted line) and then freehandedly I drew the back part (curved blue line), I wanted a soft and floppy hood, but in this passage it's up to you: you might want it squared, pointed, whatever you like best!
I've pinned my pattern on two pieces of fabric (the leftover ones from the big curve cut) so that I could cut right and left part together (of course they need to be facing either right sides together or wrong sides together).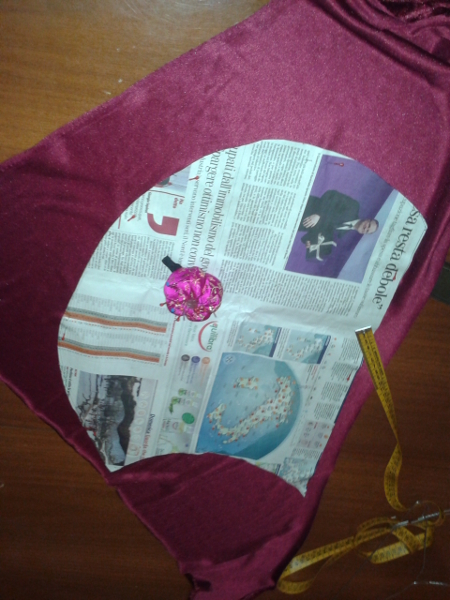 I pinned the two pieces together, the pins perpendicular to the sewing line (so that the sewing machine has no trouble sewing over them), making the back seam (from the forehead to the back of the neck).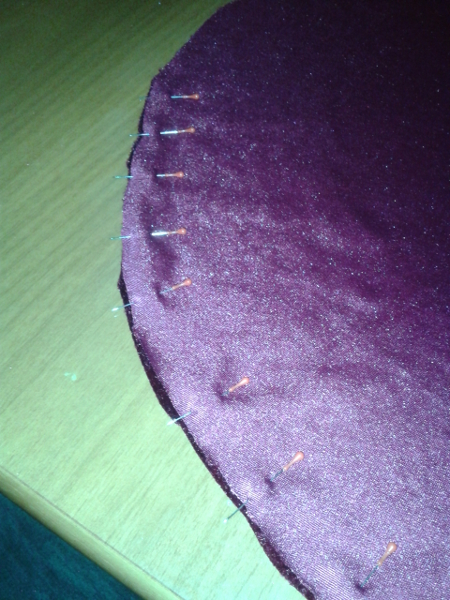 Then I opened up the hood and the cloack, overlapped the necklines, keeping right sides together, and always pinning everything with pins perpendicular to the seam, and then I sew.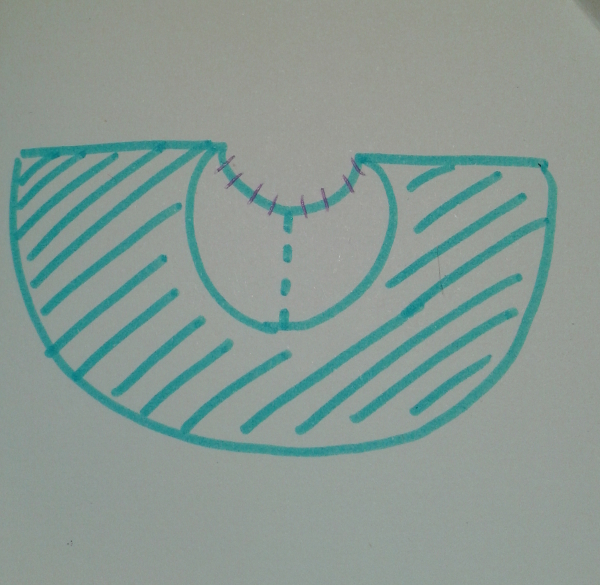 Et voilà, hooded cloack is done.
I didn't bother hemming because it's a crushed stretchy velvet, it's never going to unravel. But if your fabric tends to unravel you might want to consider hemming (btw there are also iron-on hems 😉 ).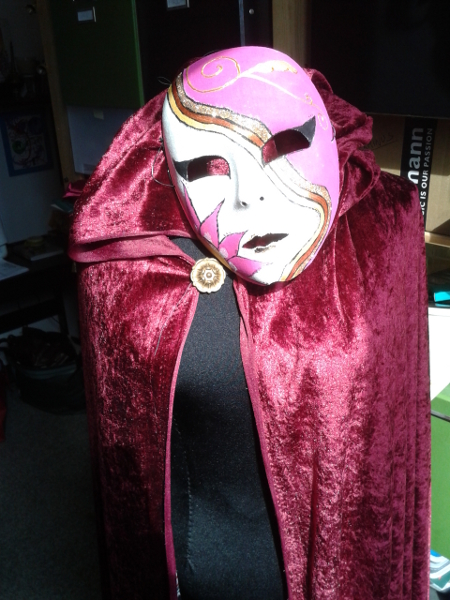 The only other thing I've done was on the spot where hood and cloack come together on the front: it was a bit pointy.
So I folded the points in and on one side I attached a button, and on the other side I attached a piece of elastic, as buttonhole/eyelet.
You can use two equal buttons, two ribbons, a button with an actual buttonhole, two hooks, alamars, basically: what you want


Mine is a very basic cloack, also because it's a garment I'm only going to use for masquerade parties. With hems, lining, maybe decorative ribbons around the hood and any other embellishment you can think of, you can of course make it prettier, more structured, sturdy, elegant, or practical, elfic, esotic, rustic… in short, the sky is the limit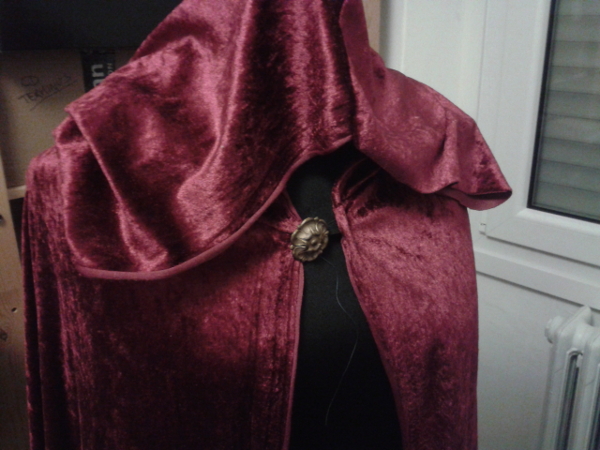 I'm incredibly proud of my hooded cloack: quick and easy, but very impressive!
Related posts: