This Christmas too I've decided to handmake my gifts, something edible and pretty.
I've chosen a hot cocoa powder, and even though some of those who received one of my GORGEOUS jars thought I simply bought the store version, opened the package and poured a lot into glass jars -gosh I'm so offended!- please know I made it all by myself.
It took me quite some trials to find the perfect recipe, I "forced" Sa to drink two or three cups before I could find the perfect proportion.
This happened also because all the recipes I read online were in "spoons" (and in Italy a spoon is a subjective quantity) and also sported some grated dark chocolate, but I didn't like this, I just wanted a powder able to be stored away for a long time.
Plus I do not like the pudding-like-consistency in my hot cocoa DRINK… anyway if you do all you need to do is to boil it longer and it will become thicker 😉
If I had paired this up with the cookies I made last year it would have been THE perfect gift, and you still can work up this power couple because you have my cookie recipe here. And here we go with the hot cocoa one.
For one person:
250 ml fresh milk, it has to be fridge-cold (and of course this was the only ingredient I didn't add in my jars, duh!!!)
25 gr sugar
10 gr bitter cocoa powder
5 gr potato starch (generally any kind of starch will do, you need it to densify your hot chocolate, but this is what I used)
Sift all dry ingredients and mix, then add little by little the cold milk, stir well, free of lumps.
When all the milk is in put it in a saucer and turn on the stove, middle to low, and keep stirring untill it boils, then pour it in a cup when it is as thick (or as runny) as you like. If you want you can add whipped cream and marshmallows (that I kindly added in my jar… note to self: next time put something that divides the cocoa powder from the marshmallows… so they won't turn black!!! And no, for those who asked, you don't have to melt marshmallows in with the hot cocoa mix…)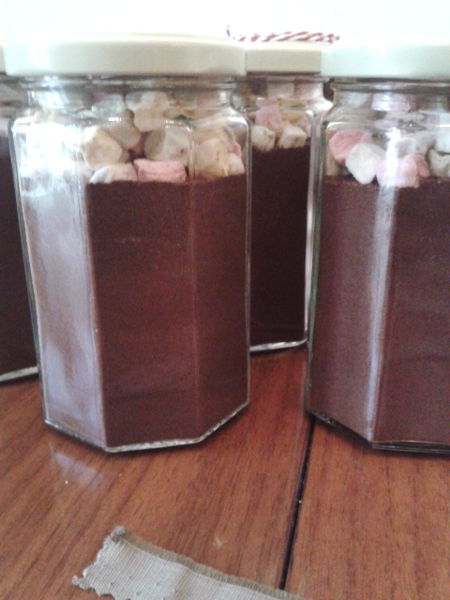 PS
You can of course customize your powder as you like, with a sprinkle of "secret ingredients": salt, cinnamon, ginger, red hot chili peppers, grounded chocolate, vanilla, orange flavour, mind, cognac, wisky, anything you might fancy!
PPS
I almost forgot, let's say you want to make a jar to keep for yourself so that you won't have to measure and mix all the ingredients every single time: try to understand how many servings fit in a jar and multiply that by the quantities of the ingredients (and then that again by how many jars you'd like to have), weight it all, mix it all very very very well and then store in a clean jars (most of all: if you're an ace in maths just like I am, make sure you have your calculus checked by someone trusted. I had them right, well done Euforilla, B).
Now you have your fancy hot cocoa powder jar and you want to have a cup: you can either put two full spoons in a cup of milk, or measure 35/40 gr of powder in 250 ml milk

Done!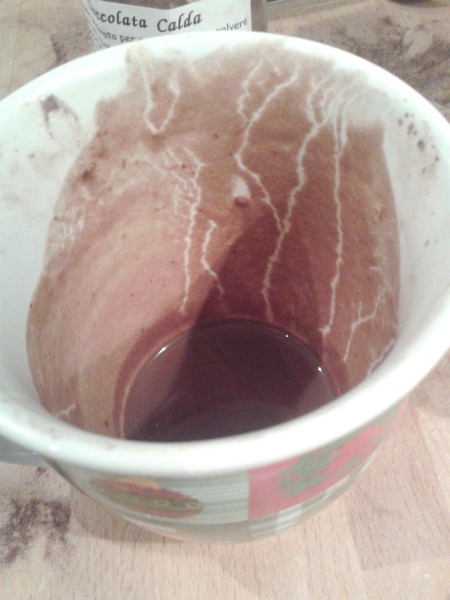 Post post post scriptum… I need a cure for my memory…
To make the fancy hat of my jars (the jars were from jams we ate during the year, throughly washed) I took some lightweight cotton, a plain beige that I would have never used, it's thin and pliable, cut it with pinkingshears so it doesn't unravel, in a square of 14cm, and with Sa keeping it in place I tied the white and red cord (by Ikea, it rocks! It makes anything christmas-like in a whim).
The labels are Sa's idea who simply went like "I have label sheets, and the template to print them, what would you like to write on them?" (I was thinking how to leave useful infos in that very moment).
24 labels on an A4 sheet, each label is 9,7cmx4,2, hope this helps.
And yes, I know, I'm a lucky woman

Related posts: