Since hot season began, Clothilde discovered the joys of laying on our balcony, in the shadow of our potted plants. Probably she's picturing herself taking down, with one swift jump, one of those crows cawing around all the time… even though in the end she contents herself with catching flies and eating cat grass (and fortunately leaving alone my other plants!).
The only issue with it is that, to get to the balcony, she claws the mosquito net, pulls it out of its binaries and jumps out. It's not ideal if you plan to keep mosquitos out and a long living net.
So we started surfing the internet, but apparently no one ever really tried to build a cat door on a mosquito net (one that rolls up).
The most helpful advice was: cut a U shape in the net, put weights on the lower side so that it stays put when the cat goes through it.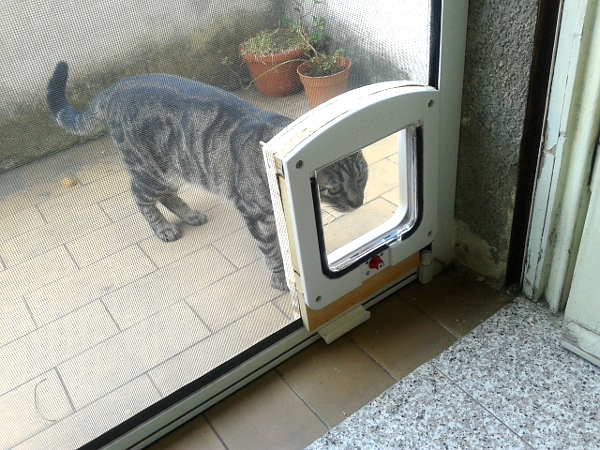 Now… please… simply cutting mosquito net and not only weighting it down but also having a cat go through it??? Well, the mosquito net is short lived like that, I'm sure of it!!!
The only other useful thing was australian, so I really don't think they sell it here in Italy!
Our last chance was DIY.
The idea behind it is: using a cat door for a regular wooden door and install it on a mosquito net, of course providing a fake "wooden door" around it to be able to screw it in. So here's how we built the fake wooden door around the cat door.
Yes, we did it!!!
What you'll need: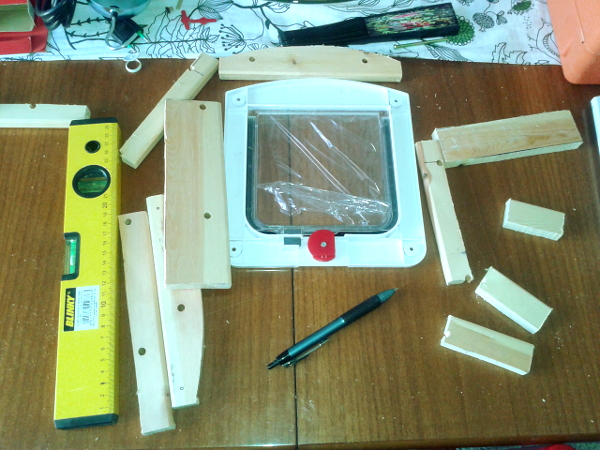 pieces of wood (we used a piece from our Ikea Gorm we had left)
pen (to mark the pieces to cut)
hacksaw
drill with points for wood (we didn't have one, so we used Ikea's electric screwdriver with points for wall… hey, it's DIY at its best!!!)
hot glue&gun (can I toot my own horn for this? Woot woot!!!)
cutter (to finally cut the net)
and of course the cat door with its screws
Phase 1: cutting wood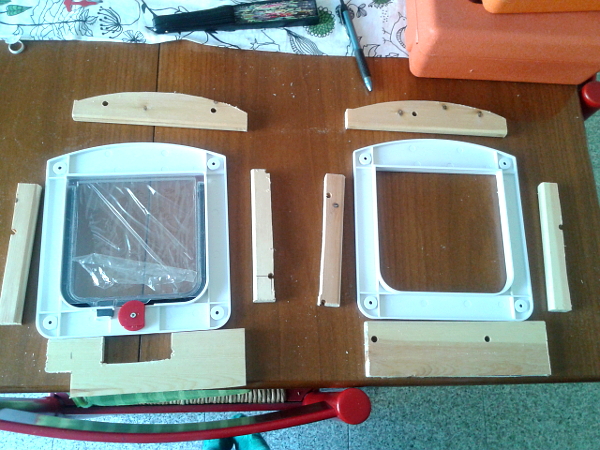 Mark the pieces you'll have to cut out in order to build the wooden frame, cut it with the hacksaw (thank you Sa for doing all the manual labour)
Keep in mind you might have to cut around to make space for any closing system your mosquito net might have (we had to use a thicker piece of wood to have room both for the screw and the closing thingie)
Mark where the holes for the screws are and make them 😛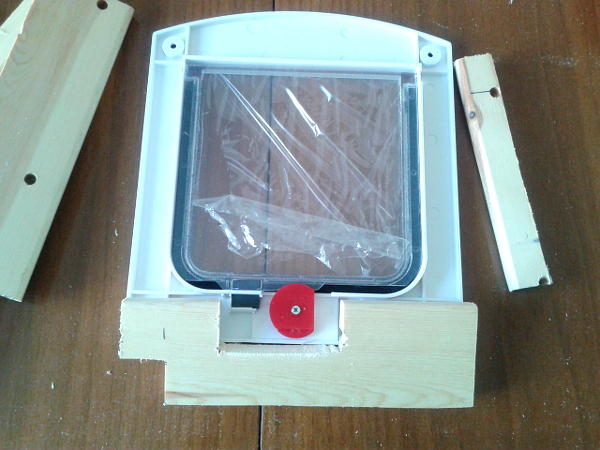 Shape the wood to make room for the closing system of the cat door (if it has one).
Phase 2: the glue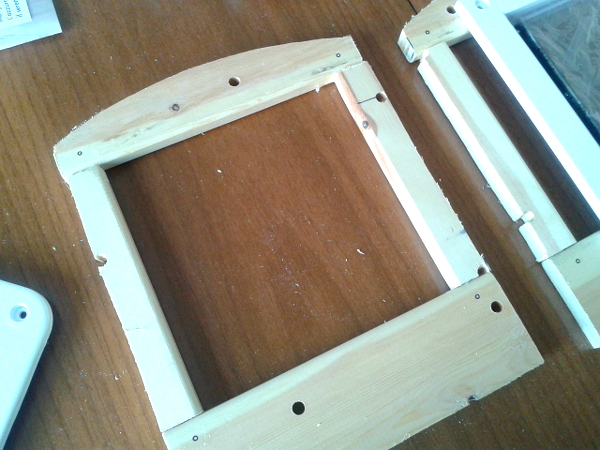 When everything's ready take the glue gun and glue the wooden parts.
To be precise with it we put all the wooden bits on the cat door, glued, and then removed our brand-new-frame, to be sure it fit perfectly.
Phase 3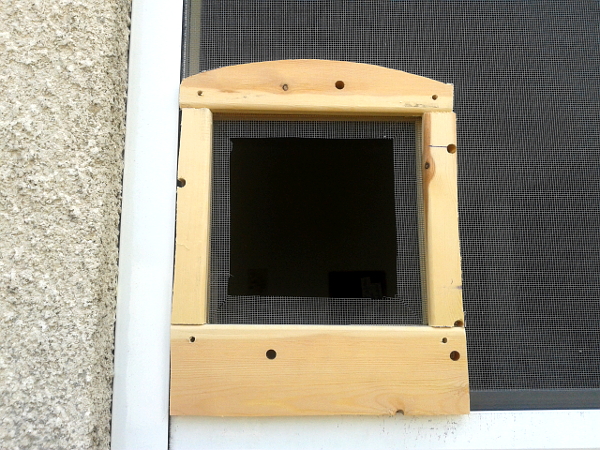 Glue the two frames on either side of the mosquito net (if you need, you can mark the inside/outside part of your frames)
Phase 4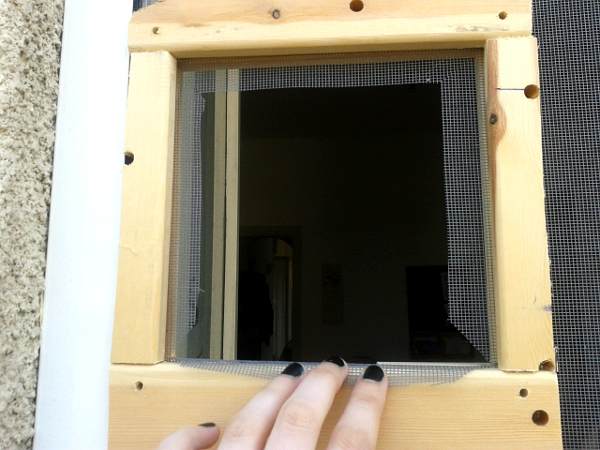 Cutting on a diagonal, cut a square of net away, keeping enough border.
Bend the leftover border and glue it down on the wood, this way (at least in theory) the net won't fray, it's like hemming it.
Phase 5
Screw in the cat door.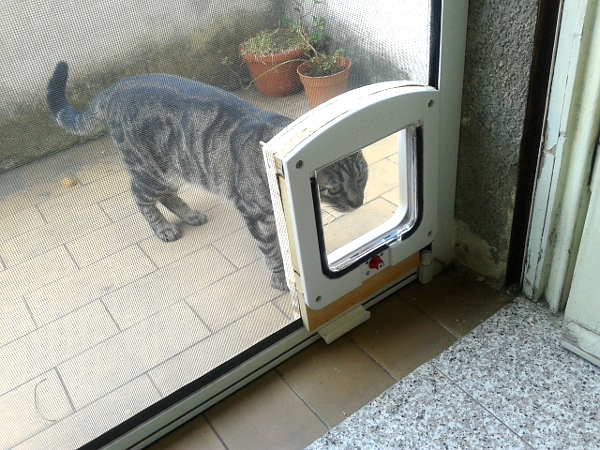 Voilà, it's done!
I do realize that this explanation makes it sound fast and easy… it took us an entire morning… and all I did was swiping sawdust, keeping the cat away and holding things in place when needed.
Thank you Sa for doing all the dirt work!!!
Phase 6
Be incredibly patient and explain to your cat how easy it is to use its new door, so that maybe one day it will stop ruining your mosquito net to go out… sigh…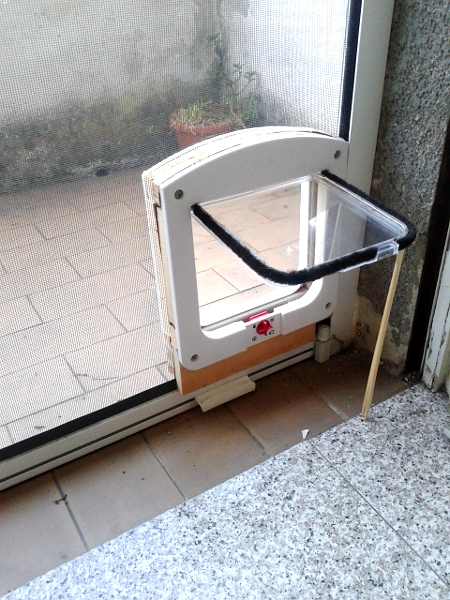 PS
As already stated here, in "only" three days (during which we used the stick method pictured above) Clo learned that it's much easier to use that new opening instead of destroying everything!
Related posts: