If you'll say "it's a piece of cake to pick out a dress for a ceremony!" please know that I won't believe you.
I know, for sure, as you clearly know stuff in your dreams, that no one in this world could skip the paranoia of the question "what will I wear" when you're invited to a wedding.
And what does paranoia do to you? I makes you search, question, crave for informations, online, with magazines, with friends and relatives.
And, to cut your search short, here's what you'll find:
– is it in the morning or in the evening?
– is it formal or not? (but mind you, if it's not, jeans and tshirt are still not allowed)
– is it at church or not?
– is there a dress code?
– by day light colours, by night dark colours
– but no white, no black, no red, no purple
– if it's formal and or at night, go with a long gown
– if it's by day a cocktail dress, no long gowns by day… unless it is a very formal event
– it it's at church wear stockings, closed shoes, cover your shoulders and don't show too much clevage
I wasn't good with geometry problems either… can you imagine what my head was with all these data???
What can you do then?
The easiest thing is to ask the wedding couple some tips.
Though this in my family means showering them with questions.
All together.
At the same time.
Since I could never write down the chaos of that sunday afternoon, I sketched it for you.
The two coloured stars are bride and groom to be, the sentences have been reported trying to be true to their source, timing and pressing.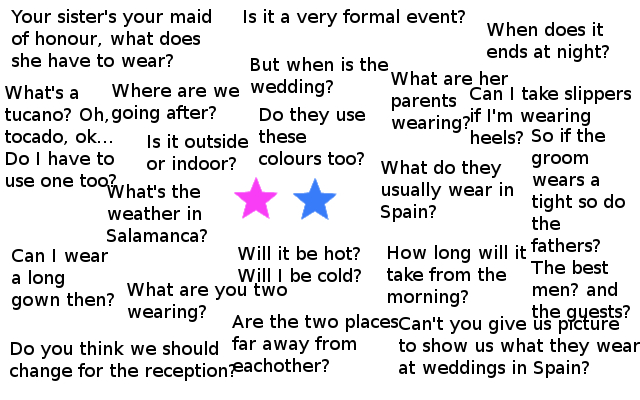 What really stuns me is that groom and bride to be managed to answer to it all.
PS
Next time I'll tell you how we solved this neverending riddle!
Related posts: