I'm going to disappoint you right away: this is no sci-fi post nor horror stories post.
But in my head this is perfectly connected with some of the latest "serious" posts I've written, plus in a comment to Yliharma I told her that I'd spoke aout past&co, so here I am.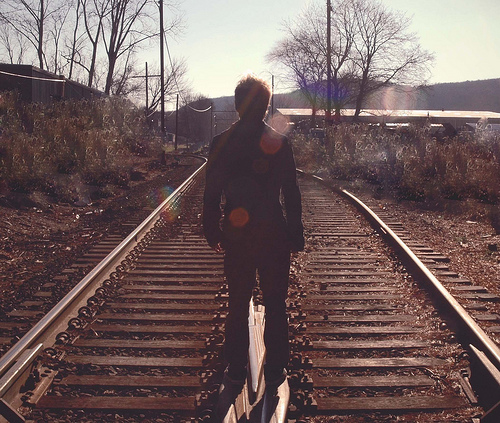 Moving home stirs up things and from a box anything can jump out, "mixtapes" included, three CDs I made for myself with various songs, called simply 1 2 and 3. Cases close to disruption, one CD so badly scratched it looked like some cat honed his claws on it. But Ubuntu is amazing and not only it was able to read that CD, but also to pull out titles and artists… To me those where my "gothic" CDs, simply put, to hell all those "goth/dark wave/new wave/punk goth/goth rock/gothic metal" labels, I was just following a "flavour", those kinda creepy kinda ethereal atmospheres, and listening to that kind of music made my imagination run wild.
Listening to those old CDs made me think back a lot of memories, to some of those who told me to listen to some of those songs, feelings I felt while listening to them and so on.
I've started saving my old blog (also thanx to splinder that was shutting down for good), I found some people thanx to facebook and others I couldn't (darn nicknames!).
Things change, and that's nice, people grow and evolve and work on themselves. To do it, though, it's always said that you have to learn from your mistakes, your past.
Well, here's where I got lost: I forgot I was someone who didn't care about other's opinions, I forgot I always stood tall, walked my way and had no troubles being a little bit fiery-tempered, I forgot I enjoyed a little to be in the spotlight and being righ (ok, ok, this is not always positive, but sometimes it's a good self esteem toner), I forgot I was able to focus and give all myself to something that envolved me fully, or to abstract my thought at will, or to enjoy the moment.
These are all things that I want to recover and implement in my present.
Now it's up to you: are there any parts of your past (attitude, personality, call it whatever) you think they might be helpful to you now? Why don't you get them back?
PS
Please know that I wouldn't recollect everything, as I was saying the last time I only learn from hard times, so some things are better left where they are!
Related posts: