I didn't plan this post, but after last night I really ought to!
But, as usual, I'm also giving you a bit of a "why?".
Some weekends ago we went at our friends', to taste some home made Tex Mex. I play the sous-chef to my friend, she wanted to repeat the success of her previous chili con carne. We chop, we stirfry, we stir some more, we spice things up.
We eat.
We ate a portion for six, but we were only four.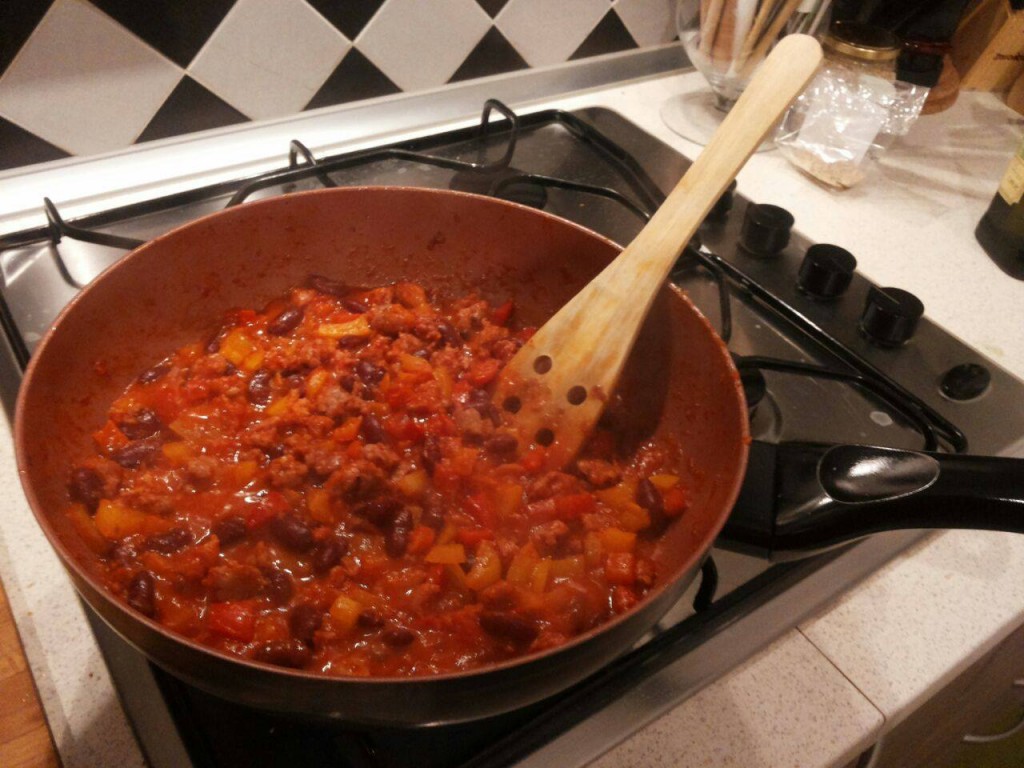 Hence I vow to try for myself, one day or another. In the meanwhile my friend starts dissecting her last try, I promise you, CSI patologist isn't that precise!
"The previous one tasted better, I guess it's the beans, use the red ones" and so on.
(Trust me, it was very good, but I do get my friend: if I cook something that doesn't turn out to meet my expectations, I nitpick at everything to find the reason!)
So, of course, first thing I do is googling for the recipe, in spanish, I guess "the closer to the original source, the better".
I find one that's close enough to the one we made, I just needed quantities and timing and the list of spices.
In the meanwhile, here at The Nook, we've decided to finish up all our pantry (fridge, freezer, everything) by cooking everything we could think of, using only the things we had around (except for fresh fruit and vegetables, of course, those won't last for ever).
After a quick opening of our freezer I find two vacuum sealed packs of sausages from Calabria.
Aka pork meat lost between fennel seeds, black pepper, red hot chili pepper and "smoke".
A light turns on: I don't need to wait and buy one day ground beef, I can use these sausages, all I have to do is peel the skin and then crumble the meat inside! Plus it's already spicy, so I don't even need to go and find weird spices I don't have around.
At that point I decide to do things properly, I ask my mom her recipe for the white mexican sauce.
And, believe me, I whip up the most decadent, delicious and epicurean dinner in ages. I would still be munching on it, if only it weren't for my limited stomach.
Anyway, I blabbed enough, I'll try to give you some sort of measurements because I took none. Here's what we've used:
1 clove of garlic
1 red onion
4 sausages (maybe a total of 400g?)
1 red bellpepper
1 yellow bellpepper
1 can of red beans (pre boiled)
1 spoon of triple tomato puree
1/2 a bottle of tomato sauce (this one was straight from Calabria too, I guess it was about one can of it)
salt, pepper, cumin seeds, paprika, oregano
evo oil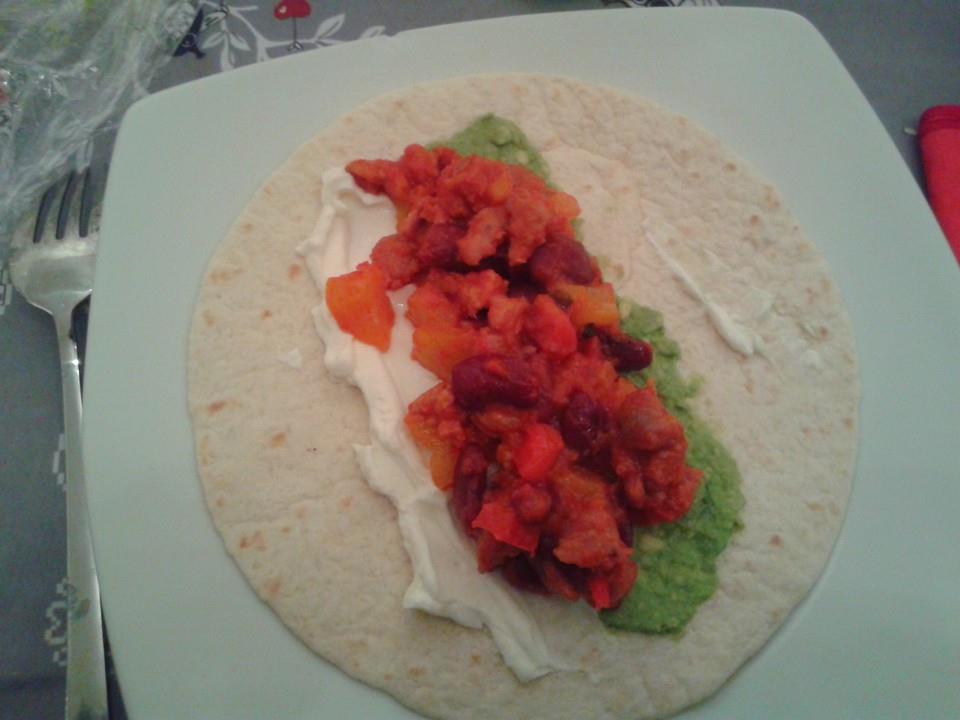 In a veeeery big pan (mine's a kind of a wok, but basically, it's BIG) poure quite a bit of oil, ehy, this is not a "diet" recipe, I think it was five spoons at least?
Crush the garlic clove into the hot oil (or chop it very finely, or whatever).
When it's golden add the finely chopped onion (whatch out for tears) and sauté it well (we always kept the heat on medium, medium-high).
When the onion's golden too, add the sausages (you might want to coarsely chop them first, we did it in the pan and was a bit of a pain in the ass).
When the meat starts to turn brown on the edges add the bell peppers chopped in small pieces, and let this cook a little while.
Then add the tomato puree and, as soon as it is well incorporated, everything else goes in: tomato sauce, beans (drained and washed), spices and adjust with salt. It's up to you.
Let the water from the vegetables and the tomato sauce evaporate, you want something thick.
Heat up your tortillas following the instructions on the package, spread the sauces, roll up, bite in, get messy, and curse with joy and delight.
Don't you worry, here are the sauces as well:
Green Sauce
1 well ripe avocado
lemon juice
salt and pepper
Mash the avocado pulp into a soft green thingy, add a squeeze of lemon (so the sauce doesn't turn brown), adjust with salt and pepper, mix everything well, you're done.
White Sauce
Greek yogurt and cream cheese in equal amounts, mix well together.
Gosh I'm hungry now!!!
Related posts: