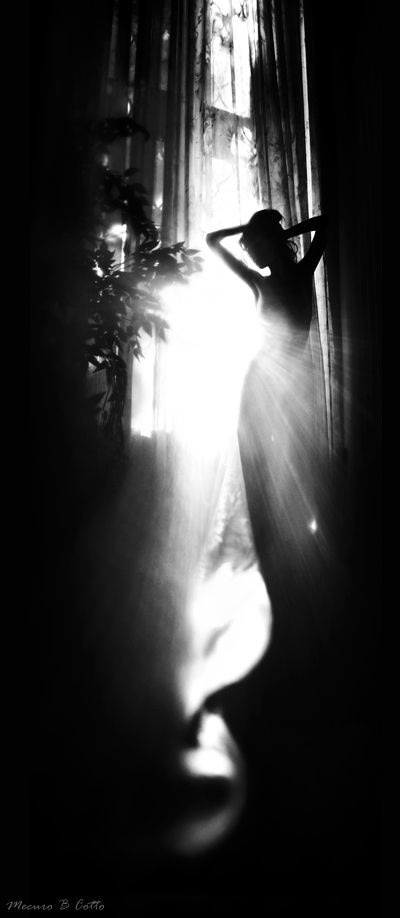 I saw her from afar, sitting on the windowsill, a raven wing inside the room, the other one outside, warming in the last summer sunset, orange like the upcoming autumn.
Her pose seemed calm and the light magnified it, making it all soft, but the tension in her hands and shoulder gave away what I was seeing, while I approached them.
I stopped on the door, in the shadows, Angelica's face was hard, the eyes hardly contained the inner fight between fire and water, rage and feelings.
Amelie was sitting on the ground, wrapped up in a purple blanket, her seetrhough wings touching the floor, closed.
"It isn't a matter of excuses and forgiveness anymore, you see it for yourself, it's a hundred years old! Or feels like…" Angelica was saying, through gritted teeth "And there's no but… please grow up my darling, or you'll keep being an easy target, they'll only thread on you… all these people living a fantasy they told themselves so that they could blindly believe in it…"
"I do not want to become gray, I do not want to forget how you dream and how you feel"
"Whether you believe it or not, that's not growing up, growing up is about being self sufficient, is about learning to stop waiting for a second chance, to use your resources without leaning on anybody, without being fooled by anybody…"
"And does that sound easy to you???" a whine almost
"Did I say it was? No, it's not easy at all, but it's best than keep on hoping for tomorrow while being oblivious of what you have now… Me and you, we should be grateful because we can learn from pain, from every single struck… we might have to go and crash against every single wall before we understand, but at least we can learn while we suffer and bleed; it's a battle where you can only try every trick in your sleeve just so you can learn always more… and I'm tired of fighting only your wars…"
"But think of her eyes…"
"And you think of what was behind her eyes… can't you see that now, and it's been a long now, that link is broken? We cut it, allright, but it has been worn by others…"
Like a painting with dry colours I could only cover it with other brush strokes, making it but an ugly crust…
I had no right to think I could do something on a painting where other hands put colours.
The easle's empty now, what about starting a new canvas?
Soon the Horned One will reign, you still have time to close up old trunks, then you'll really be able to start again… the Seventh Year's almost over too.
It is dark now, but I'm safe, I do not know who spoke these last words, I do not know who I am now, Desdemona joined the other girls… but this darkness is warm and soft, and I should not care for anything else…
Related posts: