Last friday, a couple of hours after publishing my last musa's box, Clothilde, my utterly beloved hairyStinkerbell, vanished. She was on our balcony, like she did since this spring, and at some point she was there no more.
We live at the third store and our balcony faces a road, which is not madly jammed with traffic, but there is some traffic after all. And the only other time when she disappeared I rescued her, half an hour later, in front of the steps of our neighbours, on the fourth floor… So this doesn't make much of a precedent…
We went out to look for her. Many times, in different times. We got as far as where is a small cat community, I gave away some noms hoping in some sort of karmic balance.
But nothing happened.
I spent a shitty saturday (can I say satur?), looking for hell, calling her, looking underneath cars and up into the trees, ringing neighbours, printing and distributing flyers EVERYWHERE.
But nothing yet.
Saturday night, I was almost ready to go out and search again, I broke down and cried, Sa didn't know anymore what to do to cheer me up. I was sitting here, exactly here where I'm typing now, and we hear "Meeaw?". We jump, because this time we really heard it, not like during dinner when I felt like hearing something but it must have been my mind, not like during the day when I thought I could see her on our windowsill or on top of our bookcase, not like during the afternoon between phonecalls to vets when I felt like I heard her cat door or her food dropping in her bowl.
We heard a distinctively clear "Meeaw?".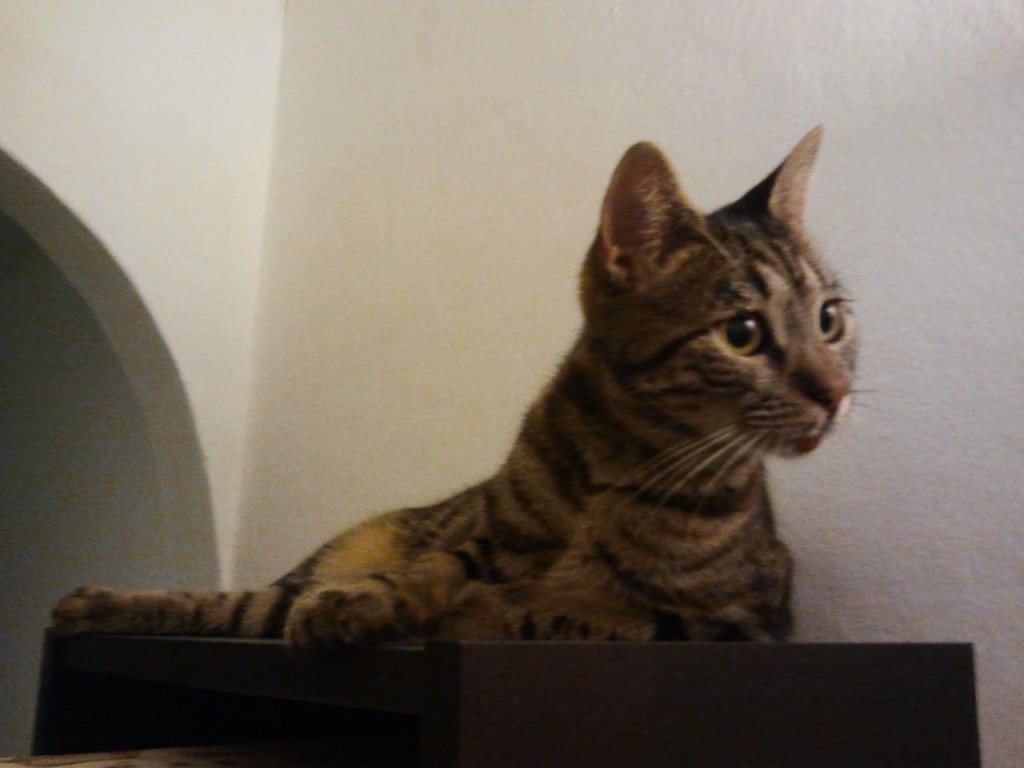 Sa goes outside the door, I look from the balcony, but then I realize that this room is far from the balcony, it doesn't look on the road, so I look on the side, I see a dark spot on the wall that separates our building from the next one… "Stinkerbell?" "Meeau!" "Stiny!!!" panic, joy, help "Sa! Sa! She's out ther, on the wall!" subtext: RRRUUUUUUUNN!!!!
He goes down, I stay on the balcony like Giulietta, and I keep calling her cute names to avoid her from running away again.
24 hours and a happy ending. So don't be surprised if my first point in this list will be:
° having Clothilde back home, cuddle her, see her eat, being willing to stand her farts her scratches and her mischiefs (to treat spraying water), her soft soft soft fur, my hairysister in general
° Sa who worked really hard to look for her, to grab her from the wall, to console me and so on *_*
° the nice people I met when I was asking around
° my Stinkerbell (who was so stupid to jump off the third floor, yet has been smart enough to come back home and stand on the right wall under the right window and meow loudly at the right time)
° our mythological "family"
° Clothilde all cuddly, for a couple of days she's been my shadow, wherever I went she was with me, any time was good to sleep near or on me and purr all the time, sooooo cute <3
° the vets complimenting her… and reassuring me

(and the fact that they made a good impression to Sa too U_U)
° being willing to cook and doing so by reinventing fridge leftovers (aka pizzette with my home made bread and my grandma's tomato sauce, or zucchini omelette)
° celebrative drink with friends to celebrate Clothilde's return (yeah, she comes home, we head to the pub)
° emails with Chiara
° paying a visit to the nearby "thriftstore", and finding out it's not that bad afterall


° my new supergorgeously cute teacup
° wonderful autumn days, going out with just jeans and a teeshirt, biking
° the new huge bangle, a real fake-tribal silver jewellery piece, my mom gifted me (it's all flowery, with silvery spirals and leaves in relief on a blackened/oxidized background)
° "Everyday steampunk" ^^
° fancying some makeup before going out
° noticing how healthy my skin and hair look, thanx to natural products *_* they might be not that fancy, unknown and in cheap-looking packages (or better yet: home made) but I'm really enjoying the results


° planning a walk in the park to collect leaves
° hot milk with cocoa and bread-butter-and-jam
° the first hot chocolate (extra dark, with whipped cream) of the season, drinking it on the tables outside, looking at a perfect blue sky, such a european moment 😀
° my grandma's 80 years birthday ^^ (and giving her as a gift some quirky ball of wool… after all she's a bit like me – or actually, I'm a bit like her – when you're gifted supplies for your hobby you're always happy!)
° mythological creatures
Related posts: